Di awal hari ini, sebuah pemandangan aneh muncul di daerah Pearl River Delta di Guangzhou. Sebuah katak raksasa yang mengisap pipa terlihat terikat di dekat menara Canton di Guangzhou.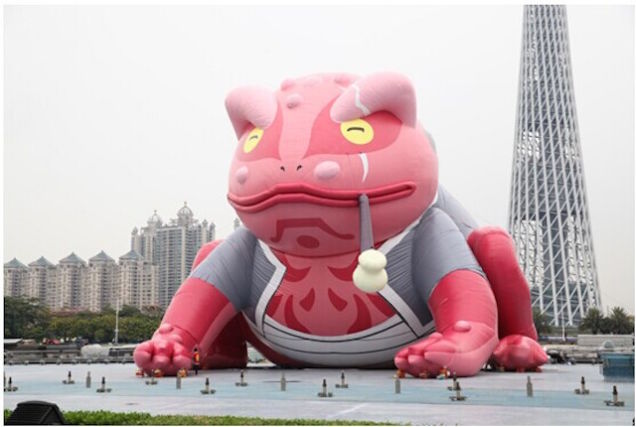 Menurut Sina games, katak raksasa tersebut merupakan suatu tribut untuk seri komik Naruto yang telah berumur 15 tahun yang baru saja berakhir pekan lalu. Sina games berbicara dengan seorang pekerja di lokasi yang mengatakan bahwa balon itu dipasang oleh para penggemar yang ingin memperingati tamatnya serial tersebut.
Pekerja konstruksi yang sama itu mengklaim bahwa katak tersebut beratnya sekitar 2 ton.
Katak itu adalah karakter dari serial Naruto yang disebut Gamabunta. Ia adalah katak raksasa yang di-summon oleh karakter utama serial tersebut dan ayahnya, Hokage keempat. Karakter tersebut juga memainkan peran yang cukup penting dalam serial itu sebagai salah satu simbol dari "three ninja of the leaf."
Menurut Sina, sejak debut dari katak itu di Guangzhou, para penggemar telah berbaris untuk berfoto selfie dengannya. Tentu saja, versi Gamabunta ini jauh lebih sedikit bermuka masam daripada di manga-nya, bahkan walau ukurannya sama besar. Salah seorang penggemar yang berani bahkan telah mengunggah katak itu ke peta Tencent! Kalian dapat melihat katak itu dan daerah sekitarnya di sini.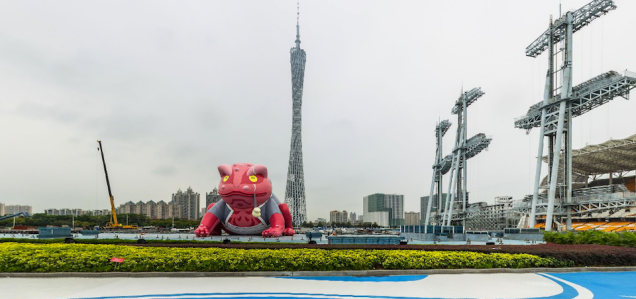 Para netizen China memiliki beberapa teori mengenai siapa yang meletakkan balon itu. Beberapa dari mereka percaya bahwa balon itu sebenarnya telah disiapkan oleh para penggemar. Beberapa bahkan telah membuat lelucon bahwa ini adalah karya dari seniman Florentijn Hofman, pencipta bebek kuning yang dapat mengambang. Lainnya berspekulasi bahwa balon itu adalah karya sebuah perusahaan pemasaran yang berharap dapat menarik hype untuk game online, Naruto Online. Bukan hal yang tidak biasa bagi berbagai perusahaan video game China untuk mengkooptasi saat orang-orang merasa baik untuk publisitas.
Game Naruto Online dari China saat ini dalam versi beta.
Source : kotaku.com