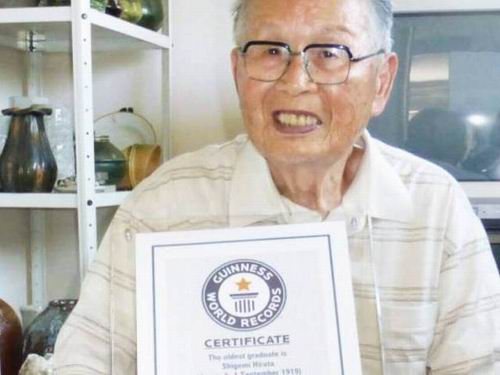 Seorang pria Jepang bernama Shigemi Hirata, yang berumur 96 tahun, menerima sertifikat Guinness World Records pada hari Jumat yang lalu setelah mendapatkan gelar Bachelor of Arts dari Kyoto University of Art and Design. Dengan gelar sarjana dalam seni keramik, ia diakui sebagai lulusan universitas tertua di dunia. Hirata yang lahir di sebuah peternakan di Hiroshima pada tahun 1919 membutuhkan waktu selama 11 tahun untuk menyelesaikan kuliah jurusan seni keramik tersebut dan ia pun menjadi selebriti di kampusnya.
Seperti dilansir dari tribune.com.pk, Hirata yang pernah bertugas di Angkatan Laut selama Perang Dunia II dan kini telah memiliki empat cicit bersikeras bahwa ia tidak memecahkan rekor apapun. Ia hanya bertujuan untuk hidup sampai umur 100 tahun dan jika masih kuat, ia mungkin akan kuliah pascasarjana. Selain Hirata, ada banyak orang Jepang yang lanjut usia tapi masih tetap aktif secara fisik.
Sugoi! Semangatnya patut ditiru ya!
Source : tribune.com.pk