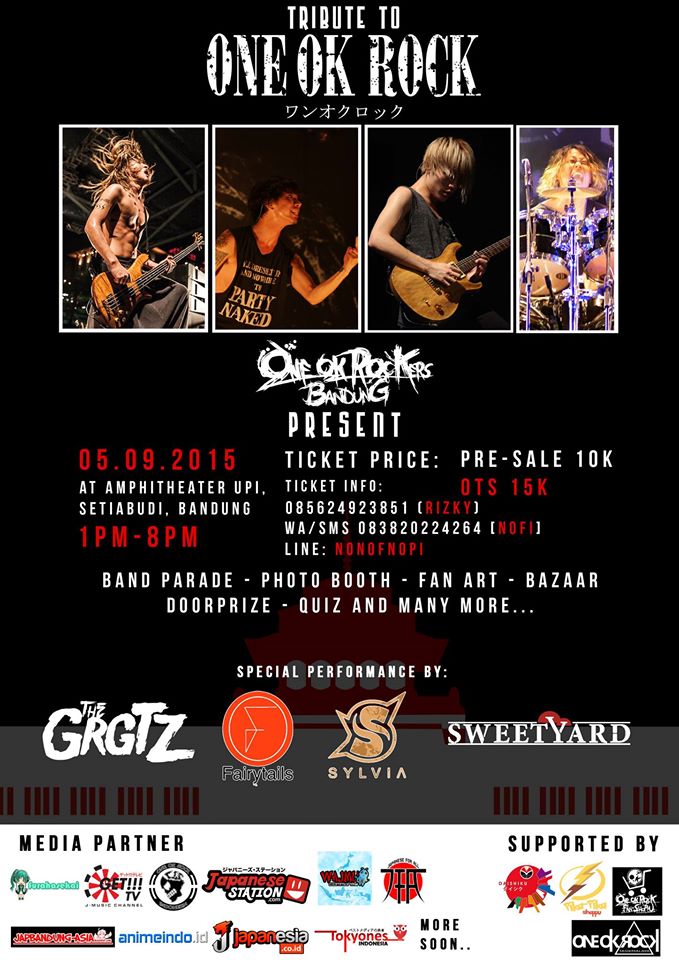 Buat kalian yang suka ONE OK ROCK, Sabtu depan datang yuk ke acara Tribute to ONE OK ROCK!
Acara ini akan dilaksanakan pada tanggal 5 september 2015 di Gedung Amphitheater Universitas Pendidikan Indonesia, jalan Setiabudhi 229, Bandung, dari pukul 13.00 – 20.00.
Ticket presale 10k OTS 15k
Isi acara terdiri dari:
– parade band
– photo booth & Fanart
– Bazzar Makanan dan Aksesories
– pembuatan dan pemutaran video
– Quiz dan Doorprize
Di acara ini akan ada banyak apresiasi seni terhadap grup band ONE OK ROCK, mulai dari fanart, photo project, pengumpulan tanda tangan, pembuatan video dan juga acara utama parade band, yang guest star acaranya ada The Gregetz, Fairytails, Sylvia dan juga Sweetyard.. dan yang lainnya…
Keterangan selengkapnya kunjungi link fanpage acara: facebook.com/tributetoOOR2015
Ayo kosongkan jadwal kalian dari sekarang dan jangan lupa untuk datang ke acara seru ini! Ajak juga teman-teman kalian ya!!