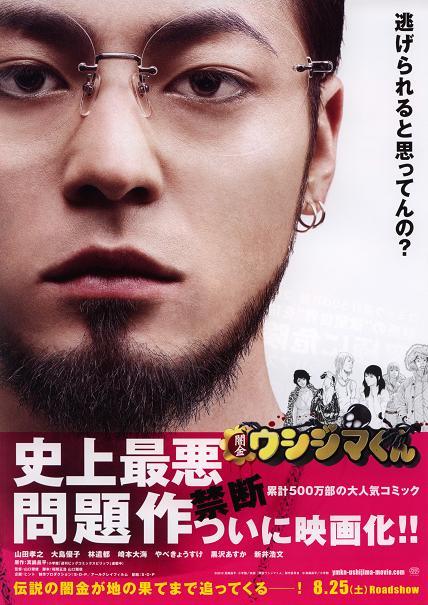 Official Website dari Ushijima the Loan Shark ( Yamikin Ushijima-kun) sebuah movie adaptasi dari manga karya Shohei Manabe mulai menampilkan sebuah viedo trailer sepanjang 94 detik hari Selasa kemarin. Film ini menggambarkan sebuah human drama di dunia pasar gelap, yang terlihat dari sudut pandang seurang lintah darat (loan shark). Film ini akan memulai debutnya di bioskop-bioskop jepang pada tanggal 25 agustus mendatang.
Dalam film ini Takayuki Tamada (Train Man, Crows Zero, Gantz, 13 Assasins) kembali memerankan tokoh utama yang dia mainkan di dorama live action Ushijima the Loan Shark (2010). Dalam film ini, Ushijima berpartisipasi dalam sebuah event selebritis untuk menagih hutang lalu bertemu dengan pemimpin acara tersebut yang bernama Jun. Yuko Oshima (AKB48) dan juga Kento Hayashi (Arakawa Under the Bridge) juga turut membintangi film ini.
Masatoshi Yamaguchi menjadi Sutradara dalam film ini, sementara script-nya ditulis oleh Masahiro Fukuma dan Yamaguchi.
Tahun kemarin manga dari  Ushijima the Loan Shark telah memenangkan penghargaan pada general category dalam the 56th Shogakukan Manga Awards. Manga ini juga dinominasikan dalam Osamu Tezuka culture prize (2008 dan 2010), juga dalam France's Angoulême Comics Awards (2008).
[youtube http://www.youtube.com/watch?v=9vhwfmB10rg]