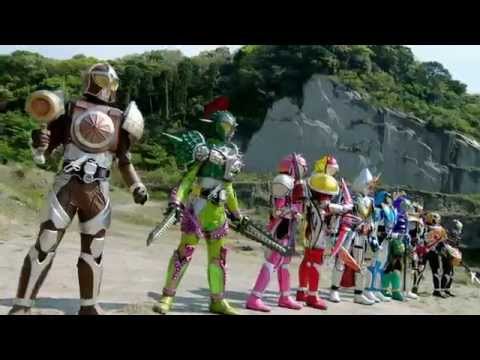 Situs resmi untuk film ganda Ressha Sentai TōQGer dan Kamen Rider Gaim mulai menayangkan secara streaming trailer mereka pada hari Jumat. Kedua film itu akan dibuka di Jepang pada 19 Juli.
The Kamen Rider Gaim film, Gekijō-ban Kamen Rider Gaim Soccer Daisakusen! Kogane no Kajitsu Sōdatsuhai! (Kamen Rider Gaim the Movie: The Great Soccer Battle! The Golden Fruit Cup Struggle!) , akan menghadirkan partisipasi dari pemain sepak bola profesional J.League Jepang. Ainosuke Kataoka (Hanzawa Naoki, The House of Glass) akan memainkan Kamen Rider Malus dalam film.
Ressha Sentai TōQGer The Movie: Galaxy Line SOS  bercerita mengenai Safari Ressha yang menjalankan Galaxy Line, masinis mereka yang bernama Lady, dan anggota Shadow Line yang membayangi mereka.
Para pemain Ressha Sentai TōQGer and Kamen Rider Gaim juga membintangi film Ressha Sentai TōQGer Vs. Kamen Rider Gaim Haru Yasumi Gattai Special (Train Sentai TōQGer Vs. Kamen RiderGaim Spring Vacation Combining Special) pada bulan Maret lalu.
Source : ANIMENEWSNETWORK