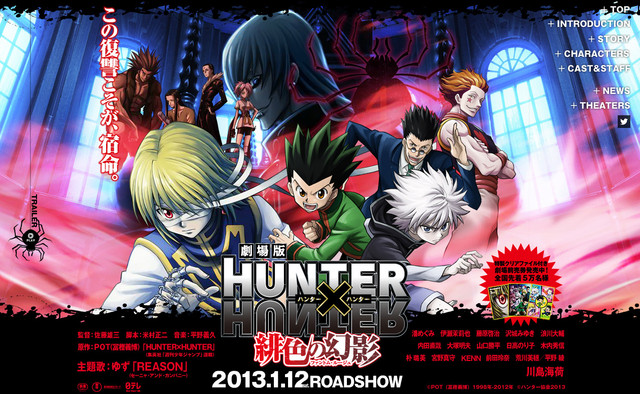 Cinema Today telah menayangkan secara streaming promotional video sepanjang 92 detik untuk untuk film layar lebar anime Hunter × Hunter mendatang yang berjudul Hunter × Hunter the Movie: Phantom Rogue. Film tersebut menampilkan cerita orisinil yang ditulis oleh Yoshihiro Togashi, pengarang manga aslinya.
[youtube http://www.youtube.com/watch?v=FTdCfyStz_A]
"Scarlet eyes" milik Kurapika telah dicuri oleh oleh pihak yang tidak diketahui. Di ambang kematian, hidupnya diselamatkan dengan bantuan Gon, Killua, dan Leorio. Phantom Troupe menghalangi langkah mereka, bersama dengan Omokage, pemegang identitas orang dengan tato laba-laba nomor 4.
Merupakan film layar lebar pertama untuk serial ini, Hunter × Hunter the Movie: Phantom Rogue akan diputar di bioskop-bioskop Jepang pada tanggal 12 Januari.
source : jefusion.com