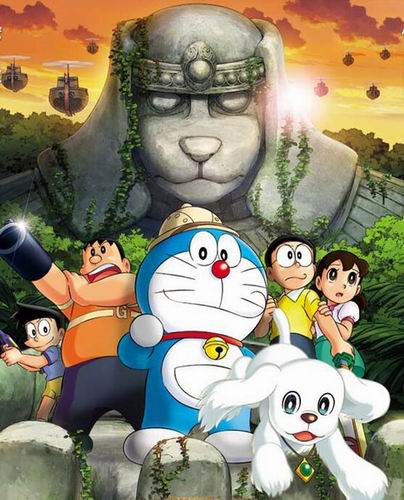 Situs resmi untuk film Doraemon 2014 mulai memutar secara streaming trailer kedua untuk film mendatang, Eiga Doraemon Shin Nobita no Daimakyo ~Peko to 5-nin no Tankentai~ (Doraemon the Movie: New Nobita's Great Demon ~Peko and the Exploration Party of Five~) pada hari Jumat yang lalu.
Ceritanya bertutur tentang para pahlawan dari serial televisi Doraemon yang harus pergi berpetualang untuk membantu pangeran anjing kembali ke kerajaannya yang jauh di dalam negeri yang belum pernah dijelajahi.
Film baru ini merupakan remake dari film tahun 1982, Doraemon: Nobita's Great Demon, yang ditulis oleh co-creator Doraemon asli Fujiko F. Fujio. Shinnosuke Yakuwa menyutradarai remake ini, dan Higashi Shimizu menulis skenarionya.
Film ini akan diputar di Jepang pada tanggal 8 Maret. Setiap penikmat filmnya akan menerima salah satu dari 80 mainan "Go Go! Peko & Dora Exploration Party" yang berbeda.
Takashi Yamazaki (Returner, Always: Sunset on Third Street, Ballad, Space Battleship Yamato) dan Ryuuichi Yagi (Sutradara Pénélope tête en l'air line, CG director dari Moyashimon 3D) juga menyutradarai Stand By Me Doraemon, Film 3D CG pertama Doraemon. Film tersebut akan diputar musim panas mendatang .
Source : animenewsnetwork.com