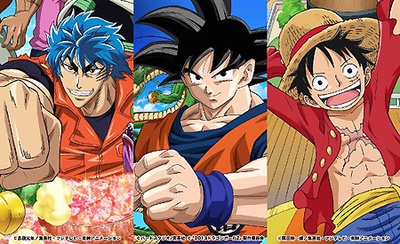 Situs resmi majalah Weekly Shonen Jump terbitan Shueisha Jepang mengungkapkan pada hari Selasa bahwa sebuah anime crossover spesial untuk televisi berdurasi satu jam antara Toriko, One Piece, dan Dragon Ball Z akan ditayangkan pada hari Minggu tanggal 7 April pukul 9.00 pagi. Anime berjudul Dream 9 Toriko & One Piece & Dragon Ball Z Chō Collaboration Special!! ini akan ditayangkan dalam 2 bagian: bagian pertama berjudul Hashire Saikyou Gundan! Toriko to Luffy to Goku! (Run, Strongest Army! Toriko, Luffy, Goku!), dan bagian kedua akan berjudul: Shijou Saikyou Collaboration vs. Umi no Taishokukan (History's Strongest Collaboration vs. Glutton of the Sea).
Toriko dan One Piece sudah pernah mendapatkan anime crossover mereka sebanyak 2 kali pada bulan April 2011 dan April 2012 lalu. Anime spesial ketiga ini akan menandai awal dari tahun ketiga anime Toriko, yang dimulai pada bulan April 2011 lalu. Toriko dan One Piece berbagi slot program Dream 9 milik Fuji TV tiap hari Minggu pukul 9.00 pagi.
Produser Toriko dari Fuji TV, Arisu Takagi membocorkan beberapa kemungkinan untuk anime spesial mendatang tersebut, seperti pertempuran antara Zoro, Zebra dan Vegeta, atau Sanji dan Komatsu yang terlibat pertandingan memasak, atau Chopper yang menyaksikan fusion Goten dan Trunks. Takagi menambahkan bahwa kali ini mereka akan "menjejalkan masuk semuanya". Takagi mengatakan bahwa Mr. Satan juga akan muncul dalam anime ini, lengkap dengan beberapa adegan kocaknya, dan juga sebuah adegan pertempuran dimana Toriko, Luffy dan Goku bergabung dan bertempur bersama.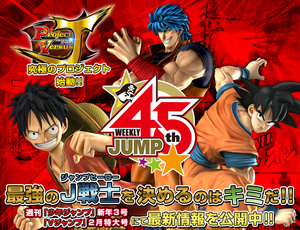 Toriko, Luffy, dan Goku juga akan membintangi sebuah game team battle action untuk PlayStation Vita dan PlayStation 3 berjudul Project Versus J (gambar di atas) yang diproduksi oleh Namco Bandai Games. Game ini merupakan bagian dari perayaan ulang tahun ke-45 majalah Weekly Shonen Jump terbitan Shueisha yang kini tengah berlangsung.
Sources :