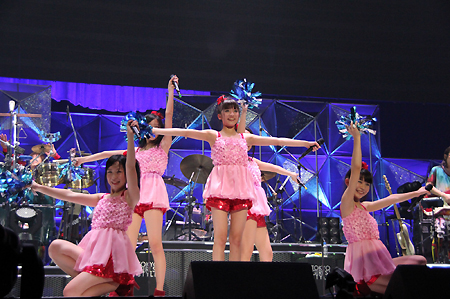 ---
---
Pada tanggal 22 Desember, grup idol Jepang yang beranggotakan 5 orang, TOKYO GIRLS' STYLE mengadakan konser di Nippon Budokan. Walau grup ini pernah mengikuti acara Sashihara Rino Produce Daiikkai Yubi Matsuri ~Idol Rinji Soukai~ di tempat yang sama pada bulan Juni lalu, namun ini adalah kali pertama mereka menggelar konser solo di Nippon Budokan.
Saat konser tersebut, usia para anggota yang selama ini belum pernah diungkapkan ke hadapan publik, akhirnya dibuka. Leader grup itu, Miyu Yamabe berusia 16 tahun, Ayano Konishi berusia 15 tahun, Hitomi Arai berusia 14 tahun, Yuri Nakae berusia 15 tahun, dan Mei Shoji berusia 15 tahun. Bersama dengan pengumuman yang mengejutkan itu, juga diumumkan bahwa TOKYO GIRLS' STYLE telah menjadi grup idol wanita termuda yang menggelar konser di Nippon Budokan.
Sebelumnya, Momoiro Clover Z membuat rekor dengan usia rata-rata mereka 17,4 tahun (per 5 Agustus 2012), namun, kini TOKYO GIRLS' STYLE telah memecahkan rekor tersebut dengan usia rata-rata mereka 15 tahun. Sementara itu, untuk grup idol pria dipegang oleh Johnny's Jr. dengan usia rata-rata mereka 14,5 tahun (pada tahun 2007), serta untuk penyanyi solo dipegang oleh Sayuri Iwai saat usianya 15 tahun lebih satu bulan pada tahun 1983 silam.
Konser tersebut dimulai dengan Limited addiction -Unlimited addiction Mirrorball Royal Mix- yang dilanjutkan dengan beberapa lagu upbeat mereka seperti Discord, LolitA☆Strawberry in summer, dan Bad Flower. Setelah itu, mereka melanjutkan penampilan mereka dengan lagu-lagu populer mereka Kodou no Himitsu, Himawari to Hoshikuzu, Liar, Rock you!, Onnaji Kimochi dan Sparkle. Mereka juga membawakan lagu-lagu Futarikiri, Yakusoku dan Tsuki to Sayounara yang akan dimasukkan ke dalam album ke-3 mereka Yakusoku (rilis tanggal 30 Januari 2013) untuk pertama kalinya.
Setelah membawakan lagu Attack Hyper Beat POP sebagai lagu terakhir mereka, kelima gadis tersebut berlarian ke sekeliling panggung dan menyapa penonton.
source : mantan-web.jp via tokyohive.com