Beberapa hari lalu, tepatnya pada tanggal 29 Juni , band visual kei the GazettE merilis sebuah pernyataan di situs resmi mereka. Mereka mengumumkan bahwa band yang beranggotakan lima orang ini telah membentuk perusahaan manajemen mereka sendiri yang bernama HERESY Inc. Band ini secara resmi telah meninggalkan label rekaman yang telah bekerja sama dengan mereka selama 15 tahun, bernama PS Company. Namun alasan mengapa mereka meninggalkan label tersebut, belum dapat dikonfirmasi.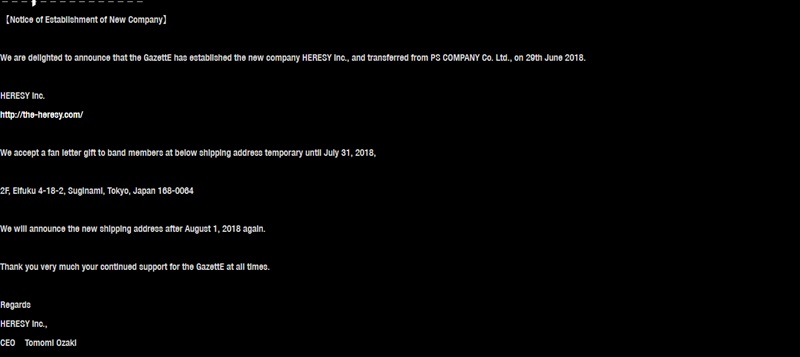 Karena the GazettE telah menjadi penghasil uang terbesar dari PS Company selama bertahun-tahun hingga sekarang, situasi ini tampak sangat mengkhawatirkan bagi perusahaan tersebut. Setelah perginya band lain bernama Rave baru-baru ini, satu-satunya band yang saat ini berada di bawah naungan PS Company adalah Kra. Selain Kra, perusahaan ini tidak memiliki penyanyi solo maupun band yang terkenal.
The GazettE telah merilis full album berjudul 'Ninth' pada 13 Juni lalu, dan menjadi album terakhir yang dirilis di bawah naungan PS Company. Album ini memulai debutnya di peringkat ketiga di chart album mingguan Oricon. Menurut Billboard Jepang, album ini terjual lebih dari 13.000 kopi selama beberapa hari pertama.
Semoga manajemen dan band ini tetap bersinar seperti sebelumnya!
(featured image: JRock News)
Sources :