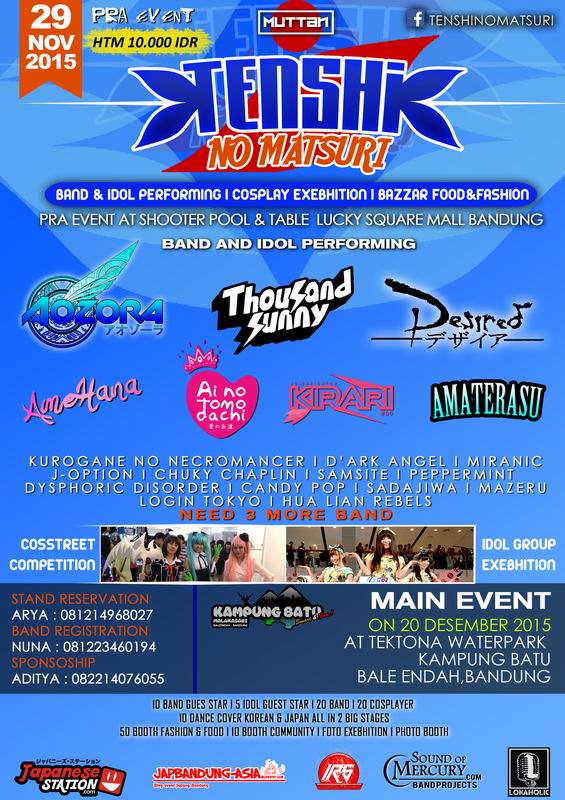 Minna, buat kalian yang ada di Bandung, datang yuk ke acara Tenshi No Matsuri!
Tenshi No Matsuri yang berarti Festifal Malaikat merupakan event promosi bagi Aozora Band dalam mempromosikan hasil karyanya. Event ini didukung penuh oleh Muttan Production yang merupakan EO sekaligus produser event Tenshi No Matsuri ini.
Selain sebagai ajang promosi Aozora Band, event ini juga sebagai wadah bagi para musisi, cosplayer maupun umum yang bergerak di bidang industri kreatif dalam menunjukkan hasil karya dan juga eksistensinya. Event ini diramaikan oleh beberapa guest star yang cukup terkenal seperti:
– Aozora
– Desired
– Thousand Sunny
– AmeHana
– Kirari
– Amaterasu
– Ai No tomodachi
– And many more………
Juga dimeriahkan oleh kompetisi cosplay baik individu maupun grup. Pra event akan diadakan di Shooter Pools and Tables.
Hari, Tanggal: Minggu, 29 November  2015
Pukul: 10.00 WIB s/d selesai
Tempat : Shooter Pools and Tables Lt. 1 Lucky Square mall Bandung
CP:
Sponsorship 082214076055 (Aditya)
Band regist 081223460194 (Nuna)
Stand Reservation 0812149668027 (Arya)
Fb Fanpage: facebook.com/tenshinomatsuri
Cosplay Individu
1. Perlombaan terbuka untuk umum.
2. Biaya pendaftaran Rp. 35.000 untuk individu dan Rp. 75.000 untuk Group
3. Peserta mengirimkan profil berupa:
Nama Peserta:
Umur/jenis Kelamin:
Kostum yang akan di gunakan:
(dikirim ke nomor 082214076055/ [email protected])
4. Blackman/crew termasuk properti diperbolehkan selama tidak mengganggu sound system dan panggung.
5. Wajib menyiapkan Backsound (BGM) sendiri untuk beraksi di atas panggung dengan format MP3 dalam USB Flasshdisk dan diserahkan saat pendafataran ulang.
6. Nomor peserta diberikan saat pendaftaran ulang. Pendaftaran ulang dilakukan 1 jam sebelum acara dimulai, durasi pendaftaran ulang 120 menit setelah itu pendaftaran ulang akan ditutup dan bagi talent yang tidak melakukan pendaftaran ulang pada waktu yang sudah ditentukan maka akan dianggap gugur.
Pendaftaran Band
1. Biaya pendaftaran 250.000 rupiah.
2. Peserta mengirimkan profile band dan logo dalam format PNG.
3. Durasi perform selama 15-20 menit.
4. Genre lagu bebas, tidak ada batasan.
Yuk datang ke acara ini, dan ajak juga teman-teman kalian ya biar makin seru!