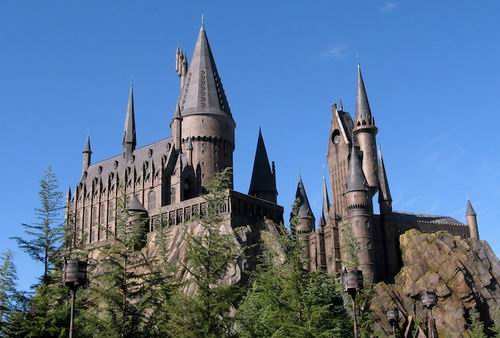 Seperti di tempat lain di dunia, seri fiksi Harry Potter karya J.K. Rowling memiliki fanbase yang besar di Jepang. Setelah sukses dengan buku dan filmnya, taman hiburan The Wizarding World of Harry Potter telah dibuka untuk banyak orang dan memperoleh pengakuan populer di Orlando Resort milik Universal Studios di Florida. Taman ini telah diatur untuk dikembangkan di luar negeri dan akan datang ke Osaka sekitar tahun 2014.
Daya tarik taman hiburan baru ini akan menjadi yang ketiga dari taman hiburan The Wizarding World of Harry Potter. Sama seperti dua taman pertama yang dibuka di Florida dan California, taman di Osaka ini akan memiliki Hogwarts Castle sebagai puncak dari taman hiburan ini. Berbagai hiburan lainnya termasuk beberapa yang ditampilkan dalam filmnya, seperti pub Three Broomsticks, Ollivanders Wand Shop, dan toko permen Honeyduke yang terkenal di Hogsmeade.
Menurut penulis Harry Potter, J.K. Rowling, rincian dan kreativitas yang ditampilkan pada dua taman hiburan pertamanya luar biasa, dan dia sama-sama gembira bahwa tingkat keahlian yang sama akan terlihat di taman hiburan yang baru di Jepang.
(Source: www.realestate.co.jp)