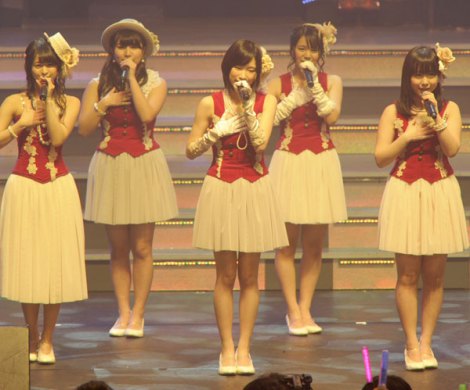 Pada hari ke-3 gelaran AKB48 Request Hour Set List Best 100 2013 yang digelar di TOKYO DOME CITY HALL tanggal 26 Januari, unit Tabidachi Sotsugyou-gumi yang berisi 9 anggota SKE48 yang akan lulus dari grup idol Jepang tersebut pada musim semi ini, tampil dengan membawakan lagu baru Sore wo Seishun to Yobu Hi untuk pertama kalinya.
Sore wo Seishun to Yobu Hi adalah lagui yang ditulis oleh Yasushi Akimoto untuk ke-9 anggota SKE48 (Kumi Yagami, Mizuki Kuwabara, Shiori Takada, Kanako Hiramatsu, Shiori Ogiso, Ririna Akaeda, Kasumi Ueno, Minami Hara, dan Emiri Kobayashi) yang telah mengumumkan kelulusan mereka sebelum ini.
Setelah tampil, Yagami berkata, "Lirik dalam lagu ini sepertinya benar-benar menggambarkan perasaan kami. Hal itu membuatku berpikir bahwa aku bahagia dapat menjadi bagian dari SKE48."
Sore wo Seishun to Yobu Hi akan dimasukkan ke dalam single ke-11 SKE48, Choco no Dorei yang akan dirilis pada tanggal 30 Januari.
Sources :