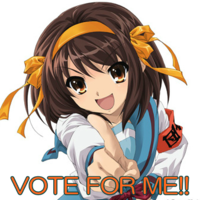 Dalam rangka memperingati ulang tahun ke-50 penyiaran anime di televisi Jepang, NHK Radio 1, sebuah stasiun radio Jepang yang beroperasi di bawah stasiun siaran publik NHK, telah membuka halaman web untuk proyek voting mereka yang akan datang berjudul My Favorite Heroines di situs resmi mereka. Anda dapat memilih tokoh wanita anime yang paling Anda sukai selama 50 tahun sejarahnya. Saat ini halaman tersebut menampilkan Uran dari Tetsuwan Atom/Astro Boy, Matilda Ajan dari Mobile Suit Gundam, Rei Ayanami dari Neon Genesis Evangelion, Haruhi Suzumiya dari The Melancholy of Haruhi Suzumiya,dan Madoka Kaname dari Puella Magi Madoka Magica.
Pemilihan utama untuk menentukan 10 finalis telah dimulai dan batas waktu terakhir unutk memilih adalah pada tanggal 9 Desember. Voting akan dilakukan dengan 1 suara untuk 1 orang pemilih. Satu hal terpenting adalah, mereka menerima voting dari orang-orang yang berada di luar Jepang. Sepuluh besar tokoh wanita akan melaju pada babak final pada tanggal 2 Januari 2013. Tokoh wanita paling populer akan dipilih lewat pemilihan suara yang dilakukan melalui program siaran langsung dari jam 07.20 malam hingga 09.00 malam pada hari tersebut.
Untuk Anda yang tertarik untuk mengikuti voting ini, Anda dapat membuka halaman web NHK dengan mengklik LINK ini, atau langsung menuju formulir voting online dengan mengklik LINK ini.
source : nlab.itmedia.co.jp via crunchyroll.com