Di Jepang, Valentine's Day dirayakan dengan cara pemberian coklat dari wanita pada pria. Jika pria yang kalian sukai berasal dari karakter dalam Prince of Tennis, mungkin kalian cukup menandai momen tersebut dengan cara membeli coklat bergambar karakter tersebut.
Theme park Shonen Jump, J-World Tokyo, akan menjual coklat Valentine's Day resmi bertema Prince of Tennis mulai tanggal 1-15 Februari. Akan tersedia 11 coklat yang menampilkan Ryoma Echizen, Shusuke Fuji, Keigo Atobe, Seiichi Yukimura, Renji Yanagi, Masaharu Nio, Bunta Marui, Kuranosuke Shiraishi, Kenya Oshitari, Hikaru Zaizen, dan Ryoga Echizen. Setiap coklat dijual dengan harga 602 yen (kira-kira US$5.11), dan masing-masing pembeli hanya bisa membeli maksimal 3 pcs/karakter.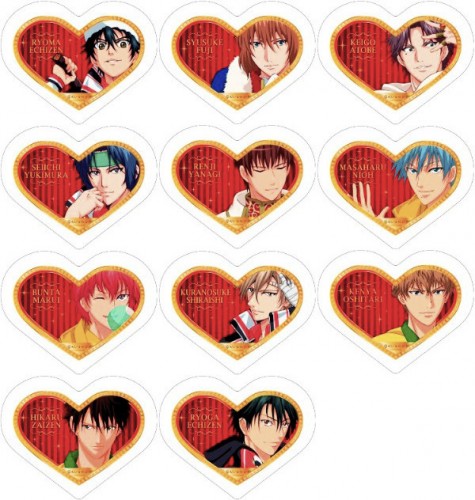 Ngomong-ngomong, Jump Square baru-baru ini mengumumkan jika mereka tidak lagi menerima coklat untuk poling tahunan popularitas karakter Prince of Tennis saat Valentine, setelah menerima ratusan bahkan ribuan coklat hanya untuk 10 karakter terpopulernya saja.
Source : AnimeNewsNetwork