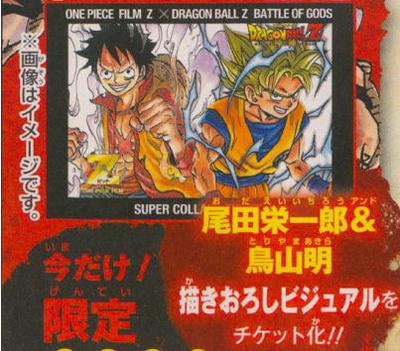 Anda adalah salah satu orang yang gemar mengoleksi tiket bioskop dari film yang Anda tonton? Tiket film satu ini pastinya sangat layak Anda koleksi.
Pencipta manga One Piece Eiichiro Oda dan pencipta manga Dragon Ball Akira Toriyama menggambar sebuah ilustrasi bersama untuk set tiket gabungan yang dapat digunakan untuk menonton film mendatang dari kedua franchise tersebut. Sebuah tiket set pembelian awal untuk kedua film One Piece Film Z dan Dragon Ball Z: Battle of Gods (Dragon Ball Z: Kami to Kami) akan dijual seharga 2.600 yen (sekitar 32 dolar). Mulai tanggal 23 November, seluruh bioskop yang akan memutar kedua film tersebut akan menawarkan sebanyak 8.989 tiket set "Super Collabo Ticket" edisi terbatas ini.
One Piece Film Z akan diputar di Jepang mulai tanggal 15 Desember 2012, sementara Dragon Ball Z: Battle of Gods akan mulai diputar pada tanggal 30 Maret 2013.
source : subcultureblog.blog114.fc2.com
via : animenewsnetwork.com