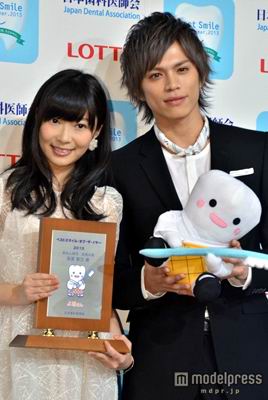 Penyanyi HKT48 Rino Sashihara (19 tahun), dan aktor Yusuke Yamamoto (25 tahun), adalah penerima Best Smile dari penghargaan Year Awards 2013.
Penghargaan ini diberikan setiap tahun pada tanggal 8 November, yang merupakan Good Teeth Day, oleh Japan Dental Association (Asosiasi Gigi Jepang) selama upacara untuk mempromosikan gigi yang baik.
Good Teeth Day diciptakan pada tahun 1993 untuk merayakan kebersihan mulut yang tepat oleh usaha bersama dari Ministry of Health (Kementerian Kesehatan), Labor and Welfare (Tenaga Kerja dan Kesejahteraan), dan Japan Dental Association. Tanggal 8 November dipilih untuk hari tersebut karena tanggal itu dapat dibaca sebagai "ii ha" atau "gigi yang baik" dalam bahasa Jepang.
Penghargaan Best Smile (Senyum Terbaik) adalah yang terbaru dalam daftar panjang penghargaan yang diberikan kepada selebriti tahun ini untuk mempromosikan berbagai industri.
Sources :