Seorang guru bahasa Inggris di Jepang bertanya kepada murid-muridnya dalam bahasa inggris "Apa yang akan kalian lakukan jika kalian terdampar di sebuah pulau?", dan mendapat satu jawaban tertentu yang menonjol dari segi isinya. Tulisan ini segera dipublikasikan di Reddit, suatu halaman dari internet.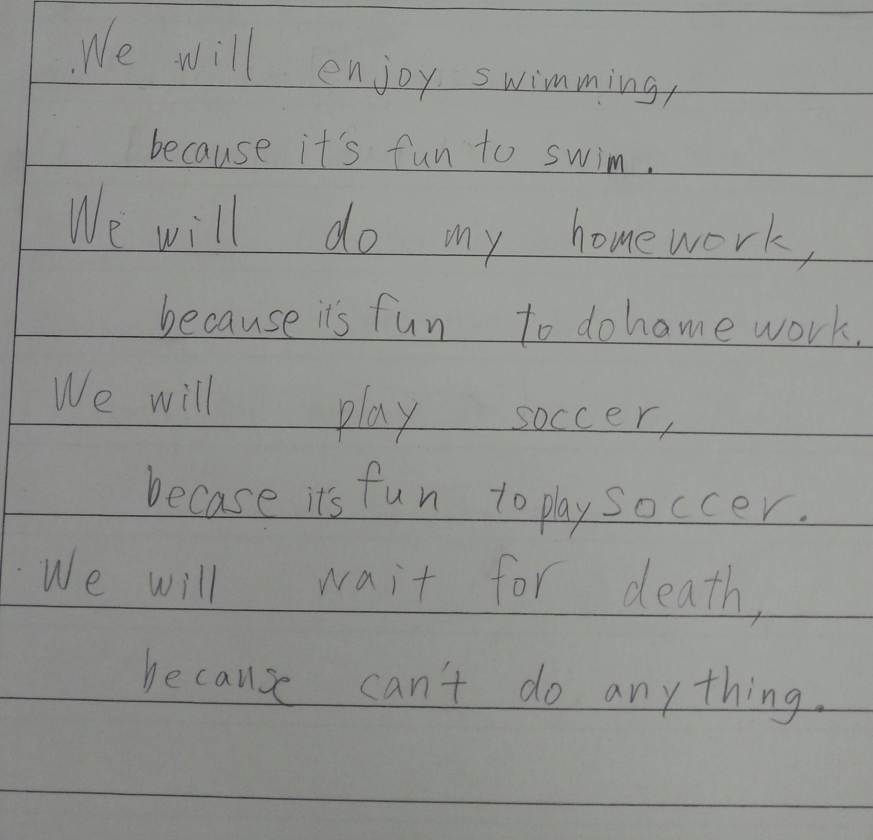 Sebenarnya tulisan ini terlihat biasa-biasa saja, sampai kamu membaca bagian terakhir. Kemudian hal-hal berubah menjadi mengerikan. Di komentar-komentarnya, murid-murid itu sudah melabeli semua hal dari realita menjadi sebuah hal yang nihilis hingga menjadi sebuah kejeniusan.
"We will enjoy swimming, because it's fun to swim.
 We will do my homework, because it's fun to do homework.
 We will play soccer, because it's fun to play soccer.
 We will wait for death, because can't do anything."
Terjemahan:
"Kami akan berenang, karena berenang itu menyenangkan.
 Kami akan mengerjakan pekerjaan rumahku, karena mengerjakan pekerjaan rumah itu menyenangkan.
 Kami akan bermain bola, karena bermain bola itu menyenangkan.
 kami akan menunggu kematian, karena tidak bisa melakukan apapun."
Jika hal itu tidak cukup membuatmu merinding. Entah anak ini adalah seorang seniman yang tersiksa, atau dia secara acak memilih beberapa kata dan frase dari kamus tanpa benar-benar memahami arti kata-kata tersebut. Yang manapun, mereka sebenarnya memiliki pemahaman yang besar tentang tata bahasa untuk taraf anak SMP, jadi tentu saja mereka mendapat nilai A untuk tugasnya, sekaligus sebuah bintang emas karena menghibur di internet.
Dan karena orang-orang Reddit terdiri dari orang-orang yang kreatif, kamu bisa menikmati karya ini dalam sebuah kaligrafi indah yan lebih sesuai dengan isinya yang mencerahkan.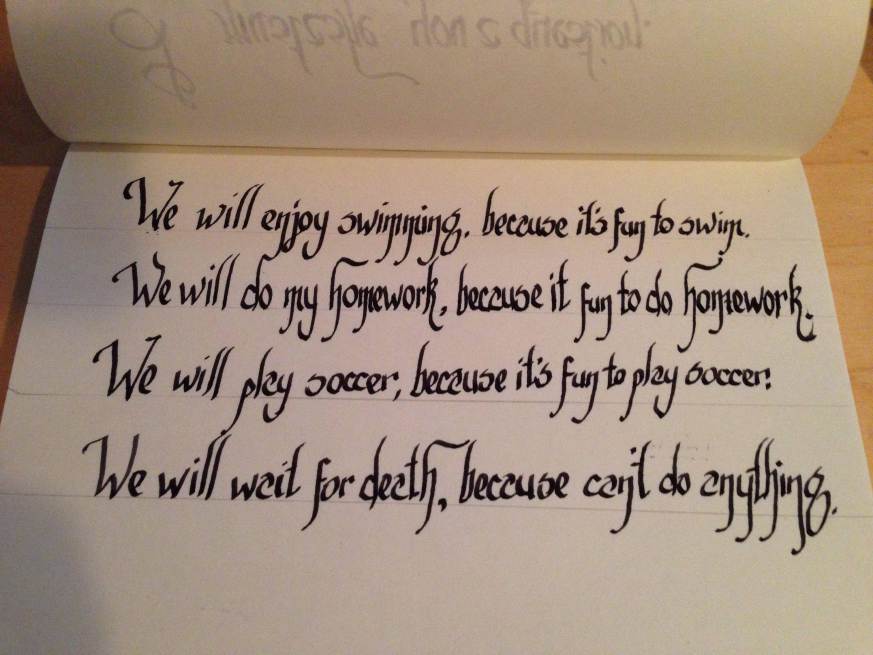 Source : en.rocketnews24.com