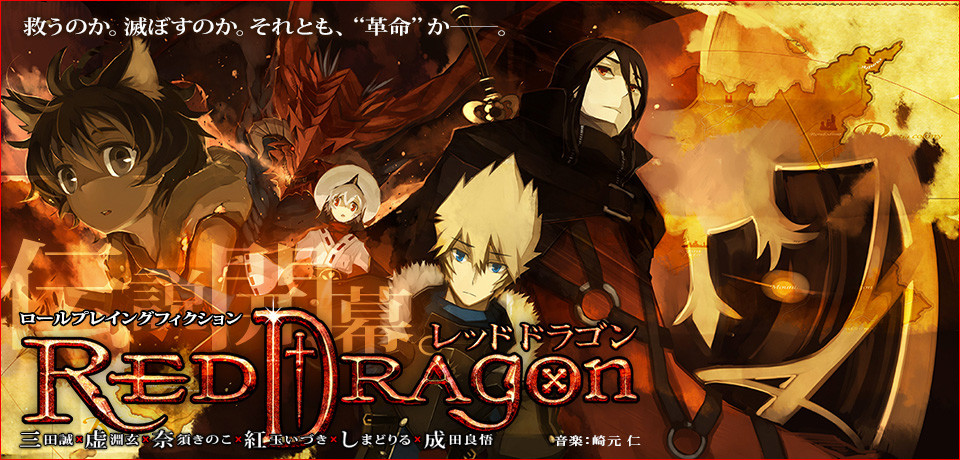 Proyek multimedia Chaos Dragon akan mengudara musim panas mendatang dengan judul Chaos Dragon: Sekiryuu Sen'eki (Chaos Dragon: Red Dragon Campaign). Proyek ini dibuat berdasarkan dari "role-playing fiction" ceritanya lahir dari sesi "table talk role-playing game" yang dihadiri oleh lima pembuat anime, game dan seni terkemuka.
Lima peserta Red Dragon di antaranya Gen Urobuchi (Puella Magi Madoka Magica dan Fate/Zero), Kinoko Nasu (Kara no Kyoukai – the Garden of sinners dan Fate/stay night), Izuki Kogyoku (Mimizuku to Yoru no Ou dan Garden Lost), Simadoriru (ilustrator), dan Ryohgo Narita (Baccano! dan Durarara!!). Tiap peserta menciptakan suatu karakter untuk menuntun sesi permainan tabletop role playing selama 6 malam yang dibuat Makoto Sanda (Rental Magica) yang menjabat sebagai fiction master.
Cerita anime-nya berlatar tahun 3105 di negara kecil Nil Kamui, di mana dewa pengawal Red Dragon mengamuk.
Masato Matsune akan menjadi sutradara di studio SILVERLINK./CONNECT bersama dengan tim Ukyo Kodachi (yang pernah menuliskan novel untuk Macross Frontier) menuliskan naskahnya yang didampingi oleh Shou Aikawa (berpengalaman dalam Fullmetal Alchemist dan Ghost Slayers Ayashi).
Sebagai tambahan, ada sebuah board game berjudul Chaos Dragon: Hao Shunjuu, sebuah story-telling game yang bercerita tentang tujuh pahlawan yang bertarung dalam perang tanpa akhir. Game untuk smartphone berjudul Chaos Dragon: Konton Senso telah dijadwalkan untuk musim panas mendatang yang bisa dimainkan di Android dan iOS. Penulis skenarionya terdiri dari Carlo Zen, Yoichiro Koizumi, Ukyo Kodachi dari Team Barrel Roll, Makoto Sanda, Ryohgo Narita, Jin Haganeya dan Shunsako Yano. Ilustratornya terdiri dari Cheese Gouda, Shimadoriru, sime, Take, Hiroyuki Takei, Peach-Pit dan minoa dari nitroplus. Terakhir musiknya akan dikomposisikan oleh Hitoshi Sakimoto.
Bagi yang penasaran bisa mengunjungi situs Sai-zen-sen untuk melihat kompilasi transcript sesi role-playing Red Dragon.
Source : animenewsnetwork.com