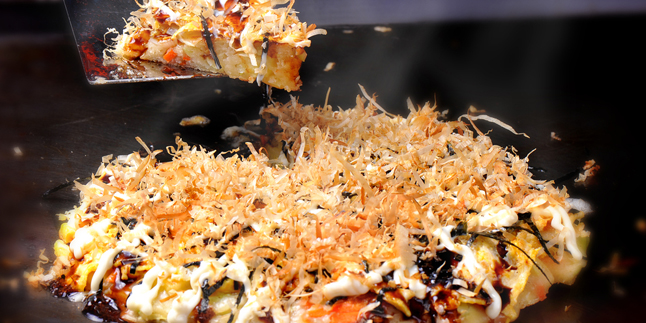 Kuliner Jepang kini telah menjadi salah satu santapan yang cukup terkenal dan favorit sebagian orang di dunia. Jika kamu termasuk salah satu pecintanya, okonomiyaki pastinya bukan hal yang asing lagi dong. Pancake khas Jepang ini memang punya rasa yang menggoda? Mau mencicipi cita rasa khas dari penganan ini selama di Jepang? Mampir ke beberapa kedai di Osaka, yuk!
Tengu. Tengu merupakan salah satu kedai okonomiyaki milik keluaga yang sudah berdiri sejak tahun 1965. Kini, tempat tersebut dijalankan oleh cucu dari pendirinya. Kamu dapat mencicipi cita rasa okonomiyaki klasik khas Osaka dengan harga yang relatif terjangkau. Cicipi salah satu menu spesial di tempat ini berupa squid okonomiyaki yang dikombinasikan dengan negi atau daun bawang dan red pickled ginger.
Kuro-Chan. Kedai ini disebut-sebut menyajikan okonimiyaki terbaik di Osaka. Tempat tersebut berdiri sejak tahun 1956 dengan desain ruangan berupa hole in the wall yang dipenuhi foto keluarga pendirinya di bagian dinding. Kamu bisa memesan okonomiyaki dalam ukuran small, medium, hingga large, disesuaikan dengan jumlah orang yang datang bersamamu.
Mizuno. Mizuno merupakan restoran okonomiyaki keluarga lainnya yang sudah bertahan hingga 65 tahun. Hal ini merupakan pertanda bahwa cita rasa sajian di tempat tersebut sangat dicintai para penggemar makanan ini. Meskipun kedai pertamanya terkena ledakan bom pada Perang Dunia II, tapi kedai ini berhasil menemukan lokasi baru dan kini dijalankan oleh cucu sang pendiri. Yang unik di tempat ini adalah bahan masakan yang berasal dari penduduk lokal. Kamu dapat menikmati sensasi yam flour okonomiyaki with scallops yang berisi topping irisan daun bawang, keju, dan udang.
Jadi, kedai okonomiyaki mana yang akan menjadi target jelajahmu?
Source : clear.co.id