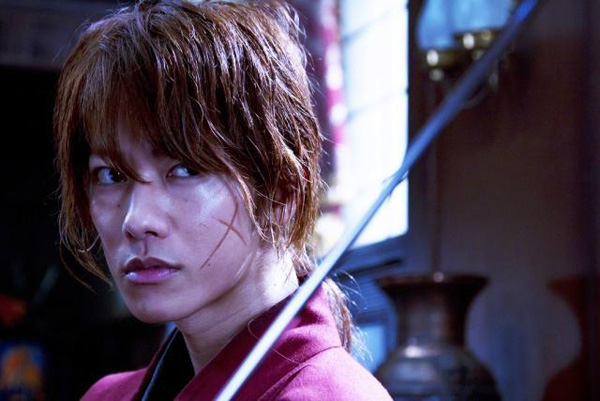 Film live-action Rurouni Kenshin yang disutradarai oleh Keishi Otomo dibuka pada 329 bioskop di seluruh Jepang pekan terakhir ini, dan telah meraup pemasukan sebesar 399.530.400 yen (sekitar 5,07 juta dolar) dalam dua hari pemutarannya, menyebabkan film ini sukses berada di puncak box office Jepang. Film ini disaksikan sebanyak 295.319 kali selama akhir pekan.
Selain itu, beberapa bioskop memutar film ini lebih awal, antara Rabu tanggal 22 Agustus dan Jumat tanggal 24 Agustus. Hasilnya, penghitungan total pemasukan sepanjang lima hari tersebut adalah 555.476.800 yen (7,05 juta dolar) yang diperoleh dari penjualan 424.143 tiket.
[youtube http://www.youtube.com/watch?v=bzeHq9blYC8]
Para pemeran utama dalam film ini adalah Takeru Satoh (Kamen Rider Den-O, Rookies, Beck) memerani tokoh yang sama dengan judul film ini, dan Emi Takei (Kyō, Koi o Hajimemasu, For Love's Sake/Ai to Makoto) berperan sebagai tokoh utama wanita Kaoru Kamiya. Yuu Aoi (Hana and Alice, Honey and Clover) memerani Megumi Takani, Munetaka Aoki (The Last Message Umizaru, live-action The Girl Who Leapt Through Time) menjadi Sanosuke Sagara, dan Taketo Tanaka memainkan tokoh Yahiko Myōjin. Hajime Saitō diperani oleh Yosuke Eguchi (Shonan Bakusozoku and Tokyo Love Story), Kouji Kikkawa (Let's Dance With Papa) sebagai Jine Udō, dan Teruyuki Kagawa (From Up On Poppy Hill, 20th Century Boys) sebagai Kanryū Takeda.
sumber : animenewsnetwork.com