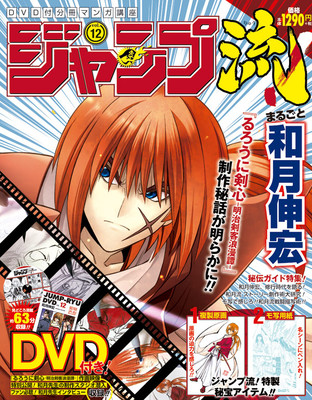 Kabar gembira bagi para penggemar Rurouni Kenshin karena telah diumumkan bahwa mangaka penciptanya, Nobuhiro Watsuki, saat ini sedang mengerjakan karya baru yang "masih dirahasiakan." Kabar ini diumumkan Kamis kemarin oleh editornya, Shuntarou Kosuge, melalui buklet Jump Ryuu volume ke-12 dan seri DVD-nya. Volume ke-12 Jump Ryuu berfokus pada mangaka Rurouni Kenshin tersebut, sedangkan tiap edisi Jump Ryuu menampilkan mangaka berbeda dari Weekly Shonen Jump.
Seperti dikutip dari animenewsnetwork.com, selain karya yang melejitkan namanya, mangaka Rurouni Kenshin itu juga dikenal telah menciptakan manga Buso Renkin, lalu Embalming – The Another Tale of Frankenstein yang berkolaborasi bersama istrinya yang bernama Kaoru Kurosaki, serta pernah merancang beberapa karakter utama untuk anime Endride dan game smartphone.
Wah, seperti apa ya karya barunya itu?
Source : animenewsnetwork.com