Edisi ke-45 Weekly Shonen Magazine terbitan Shueisha mengumumkan bahwa manga Kindaichi Shonen no Jikenbo R (The File of Young Kindaichi Returns) karya Yozaburo Kanari dan Seimaru Amagi akan hiatus pada edisi berikutnya. Serial tersebut akan kembali dengan kisah baru pada edisi ke-51 yang terbit tanggal 19 November. Sang kreator akan melakukan penelitian selama masa hiatus.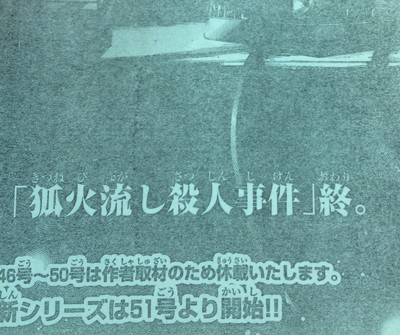 Manga tersebut diluncurkan sebagai kelanjutan dari manga original Kindaichi Shonen no Jikenbo (Kindaichi Case Files) tahun 2013. Kodansha mempublikasikan volume kompilasi ketiga dari Kindaichi Shonen no Jikenbo R pada bulan September.
Seri anime the File of Young Kindaichi Returns telah berakhir dengan episode final tayang pada tanggal 27 September di NTV. Crunchyroll men-streaming anime tersebut saat ditayangkan di Jepang.
Manga asli Kindaichi Shonen no Jikenbo menginspirasi anime televisi pada tahun 1997, termasuk dengan beberapa film dan televisi spesial. Manga tersebut juga diadaptasi dalam beberapa live-action, termasuk set spesial tahun ini di Malaysia dengan Ryosuke Yamada dari boysband Hey! Say! JUMP. Anggota KinKi Kids Tsuyoshi Domoto, member Arashi Jun Matsumoto, dan member KAT-TUN Kazuya Kamenashi juga bermain dalam judul tersebut.
Manga asli menginspirasi sebuah anime web dari FROGMAN (Eagle Talon, Thermae Romae) pada bulan Januari. Tokyopop mempublikasikan 18 volume manga original di Amerika Utara.
Source : AnimeNewsNetwork