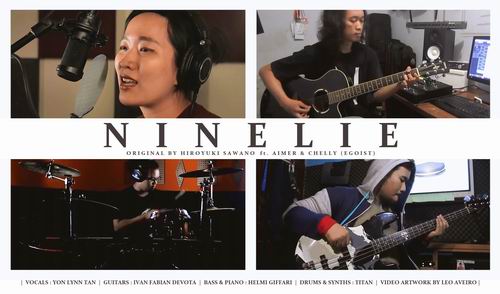 Iseng karena selama bulan puasa tidak ada jadwal manggung, membuat 4 orang personil band yang biasa tampil di event komunitas pecinta budaya Jepang ini memutuskan untuk berkolaborasi membuat sebuah video musik cover, membawakan NINELIE, sebuah lagu garapan komposer Jepang terkenal Hiroyuki Sawano yang dinyanyikan oleh Aimer dan Chelly (EGOIST) yang merupakan lagu tema dari seri anime yang cukup populer season ini, Koutetsujou no Kabaneri / Kabaneri of The Iron Fortress.
Bermula dari ide Helmi Giffari, founder dari HelGi Audio Production dan juga pencabik bass dari band The GRGTZ yang mengajak Lynn, personil dari band Raijin asal Malaysia untuk membuat video cover lagu ini. Helmi kemudian mengajak Titan, personil dari Henohenomoheji dan Ivan Fabian Devota, gitaris solo yang telah banyak tampil membantu band-band lain, termasuk Henohenomoheji, untuk ikut berpartisipasi.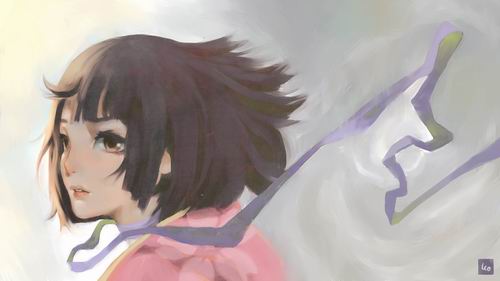 image: leoaveiro.deviantart.com
Proyek iseng ini juga mendapatkan bantuan dari Leo Aveiro, ilustrator yang menyumbangkan karyanya berupa ilustrasi salah satu tokoh dari anime Koutetsujou no Kabaneri; Mumei sebagai gambar pembuka pada video cover ini.
Dan kini video cover NINELIE ini telah dapat ditonton dan dinikmati oleh publik melalui media YouTube.
Helmi, Lynn, Ivan dan Titan berharap hasil dari iseng-iseng mereka ini dapat memberikan hiburan tersendiri bagi para pecinta anisong maupun pecinta musik.
Enjoy!
=======================================
Jangan lupa follow akun mereka!
HelGi Audio Production >> Bass, piano, mixing, mastering
FB: www.facebook.com/helgiaudio
SC: www.soundcloud.com/helmi-giffari
Band FB: www.facebook.com/TheGregetz
Lynn (Raijin) >> Vokal, backing vokal
FB: www.facebook.com/raijinband1
IG: www.instagram.com/raijinband
Youtube: www.youtube.com/user/roosh24
Ivan Fabian Devota >> Gitar
FB: www.facebook.com/ivanfabiandevotaofficial
IG: www.instagram.com/ivanfabiandevota
Youtube: www.youtube.com/user/ivanfabiandevota
Titan (Henohenomoheji) >> Drums, perkusi, synthesizers
FB: www.facebook.com/henohenomoheji.band
Twitter: @heno2moheji39
IG: www.instagram.com/henohenomohejiband
Youtube: www.youtube.com/user/celestialdreams31
Leo Aveiro:
IG: www.instagram.com/artofaveiro
DA: http://leoaveiro.deviantart.com