LITE mengumumkan bahwa mereka akan memulai tur Jepang mulai tanggal 30 Mei 2014. Tur ini menjadi tur tahunan ketiga dari <APPROACHES> di mana mereka akan tampil di 8 lokasi di seluruh penjuru Jepang dan akan mengundang tamu dalam setiap penampilannya. Tiket akan dijual pre-sale mulai 1 Februari di website official LITE.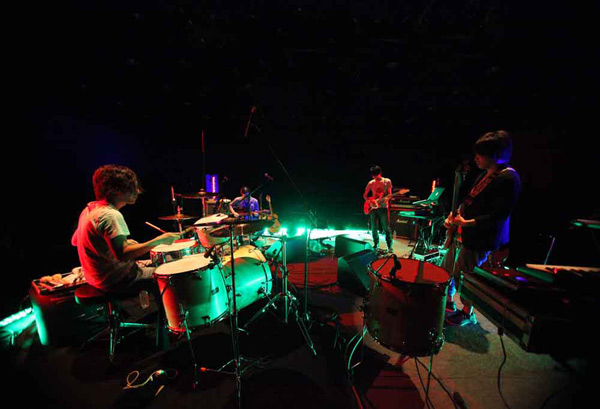 Mulai 1 Februari, LITE juga akan mengadakan tur Eropa yakni di sebanyak 7 negara dan mengadakan konser sebanyak 14 kali di seluruh Eropa selama 15 hari, dimulai dengan <Midem Festival 2014> di Cannes, Perancis. Seiringan dengan tur Eropa, mereka akan merilis kembali album mereka yang dirilis pada Juni 2013 silam, "Installation", ke dalam bentuk CD dan analog, melalui salah satu indie label London, Blood and Biscuits. Blood and Biscuits juga pernah merilis sejumlah album dari band-band seperti EFTERKLANG dan MUM.
Music Video untuk dua track dari album tersebut, "Echolocation" dan "Hunger", baru saja dirilis.
<LITE Tur Eropa 2014>
2/1(Sat) Perancis, CANNES – Ma Nolans "Midem Festival 2014"
2/2(Sun) Spanyol, BARCELONA – Apolo2
2/4(Tue) Perancis, NANTES – Le Ferrailleur
2/5(Wed) Perancis, PARIS – Espace B
2/6(Thu) Belanda, DEN BOSCH – W2
2/7(Fri) Belgia, GENT – Charlatan
2/8(Sat) Belgia, LOUVAIN-LA-NEUVE – Festival La Ferme
2/9(Sun) Inggris, LEEDS – Brudenell Social Club
2/10(Mon) Irlandia, DUBLIN – Workmans Club
2/11(Tue) Inggris, GLASGOW – Stereo
2/12(Wed) Inggris, BIRMINGHAM – Flapper
2/13(Thu) Inggris, LEICESTER – Bishop Street Church
2/14(Fri) Denmark, COPENHAGEN – Jazzhouse
2/15(Sat) Inggris, LONDON – Electrowerkz
TOTAL INFO: Northern Music Company http://www.northernmusic.co.uk/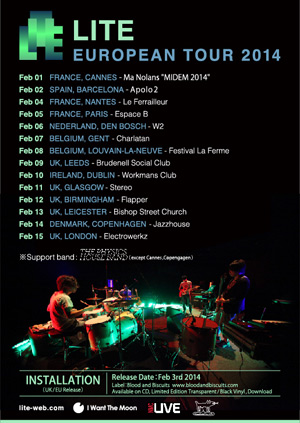 Source: en.barks.jp