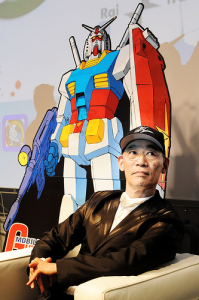 Pencipta Gundam, Yoshiyuki Tomino akan mengadakan konferensi pers pada tanggal 21 Januari untuk mengumumkan proyek pertama dari perusahaan Ookaze no Okorusama miliknya dengan sebuah studio special effect asal Hollywood, Legacy Effects. Dengan kolaborasi tersebut, Tomino berencana membuat "film yang berdasarkan pada manga Jepang dan animasi dari Hollywood untuk dunia."
Yoshiyuki adalah sutradara dari seri pertama Gundam, Mobile Suit Gundam yang dirilis pada tahun 1979. Selain itu, dia juga menciptakan Muteki Chōjin Zambot 3, Muteki Kōjin Daitarn 3, Densetsu Kyojin Ideon, Aura Battler Dunbine, Brain Powered, Overman King Gainer, dan lain-lain.
Legacy Effects adalah nama lain dari Stan Winston Studio, yang didirikan oleh supervisor special effects yang melegenda, Stan Winston (Terminator, Jurassic Park, Alien). Setelah Stan Winston wafat pada 2008, studio ini berubah nama menjadi Legacy Effects dan terus berkarya dalam beberapa film, seperti Avatar, The Avengers, The Hunger Games, Iron Man 3, dan Pacific Rim.
Sementara itu, menurut Presiden Bandai, Kazunori Ueno, karya paling baru dari Yoshiyuki yang diberi codename "G-Reko" akan diungkapkan pada tahun 2014-2015.
Source : animenewsnetwork.com