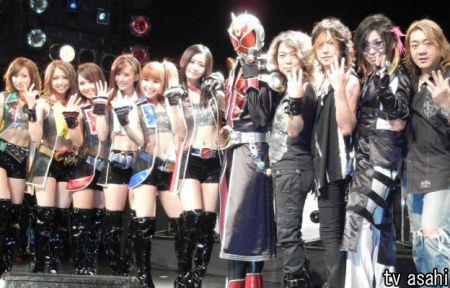 Di tengah acara Kamen Rider Wizard Music Magic yang di-streaming secara langsung di Nico Nico Douga hari ini, telah diumumkan bahwa Kamen Rider GIRLS dan Rider Chips akan menyanyikan empat insert song dari serial Kamen Rider jaman Heisei yang ke-14 ini.
Kamen Rider GIRLS akan menyanyikan lagu Last Engage dan Mystic Liquid untuk character theme Wizard Flame Style dan Wizard Water Style. Sementara itu, Rider Chips akan kembali dan membawakan lagu Blessed Wind dan Strength of the Earth untuk Wizard Hurricane Style dan Wizard Land Style.
Single Last Engage milik Kamen Rider GIRLS dan Blessed Wind milik Rider Chips akan dirilis dalam dua versi yaitu CD+DVD dan CD-Only. Masing-masing akan dibanderol sebesar 1890 yen dan 1260 yen, dan kesemuanya akan dirilis di Jepang pada tanggal 21 November.
Di bawah ini adalah preview lengkap dari keempat lagu di atas :
[youtube http://www.youtube.com/watch?v=p1NxBZlbpuM]
[youtube http://www.youtube.com/watch?v=5HUihRtmkY8]
[youtube http://www.youtube.com/watch?v=IwRse2qtce8]
[youtube http://www.youtube.com/watch?v=2V-vFG1PhKg]
sumber : jefusion.com