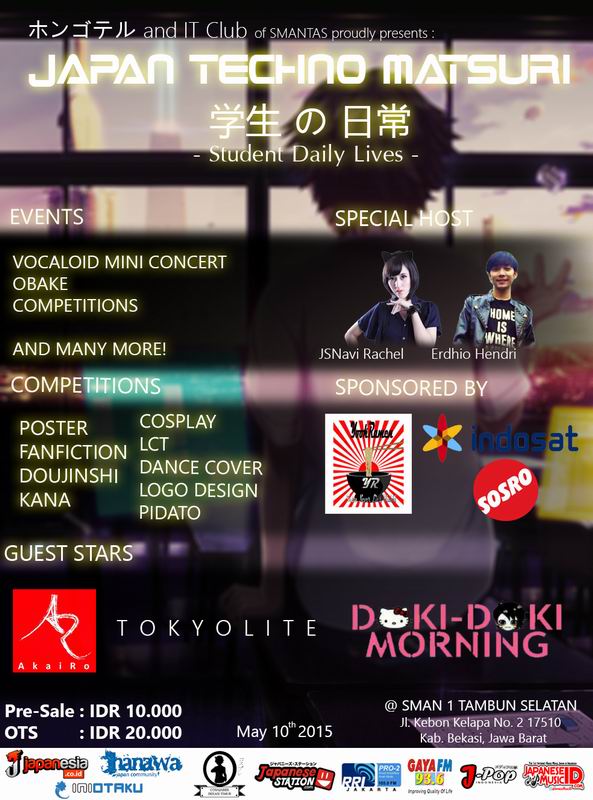 Minna, akhir pekan ini datang yuk ke acara Japan Techno Festival 2015!
Organisasi HONGOTERU yang merupakan organisasi Jepang dari SMAN 1 Tambun Selatan bersama organisasi IT Club mengadakan festival kebudayaan Jepang bertajuk Japan Techno Festival 2015.
Tema kegiatan event ini adalah" Gakusei no Nichijou".
Acara ini digelar tanggal 10 Mei 2015 di SMAN 1 Tambun Selatan, Jl. Kebon Kelapa No. 2 Kabupaten Bekasi.
Open gate @8:00 AM
HTM:
Presale IDR 10k (LIMITED‼)
OTS IDR 20k
Don't forget come to our Obake!
FIRST IN JABODETABEK! Vocaloid Mini Concert; Hatsune Miku, Kagamine Rin & Len and IA ROCKS!
Di event ini ada beberapa acara seperti Perlombaan dan Performance
Lomba
☑ Cosplay
☑ Kana Contest
☑ LCT
☑ Dance Cover
☑ Fanfiction
☑ Doujinshi
☑ Japanese Speech
☑ Design Logo
☑ Ramen Competition
Performance
SSC (Sanggar Seni celoteh)
Hanoji Band
Guest Stars
Akairo Band
Tokyo Lite Band
Doki Doki Morning
Special Host
JS Navy Rachel
Erdhio Hendri
More information
SESA ARYASA (CP): 082110000729
Twitter: @GoMatsu15
Website: gomatsuri3rd.esy.es
Jangan lupa ya, catat tanggalnya, kosongkan jadwal kalian! Ayo datang dan ajak teman-teman kalian, dijamin seru!