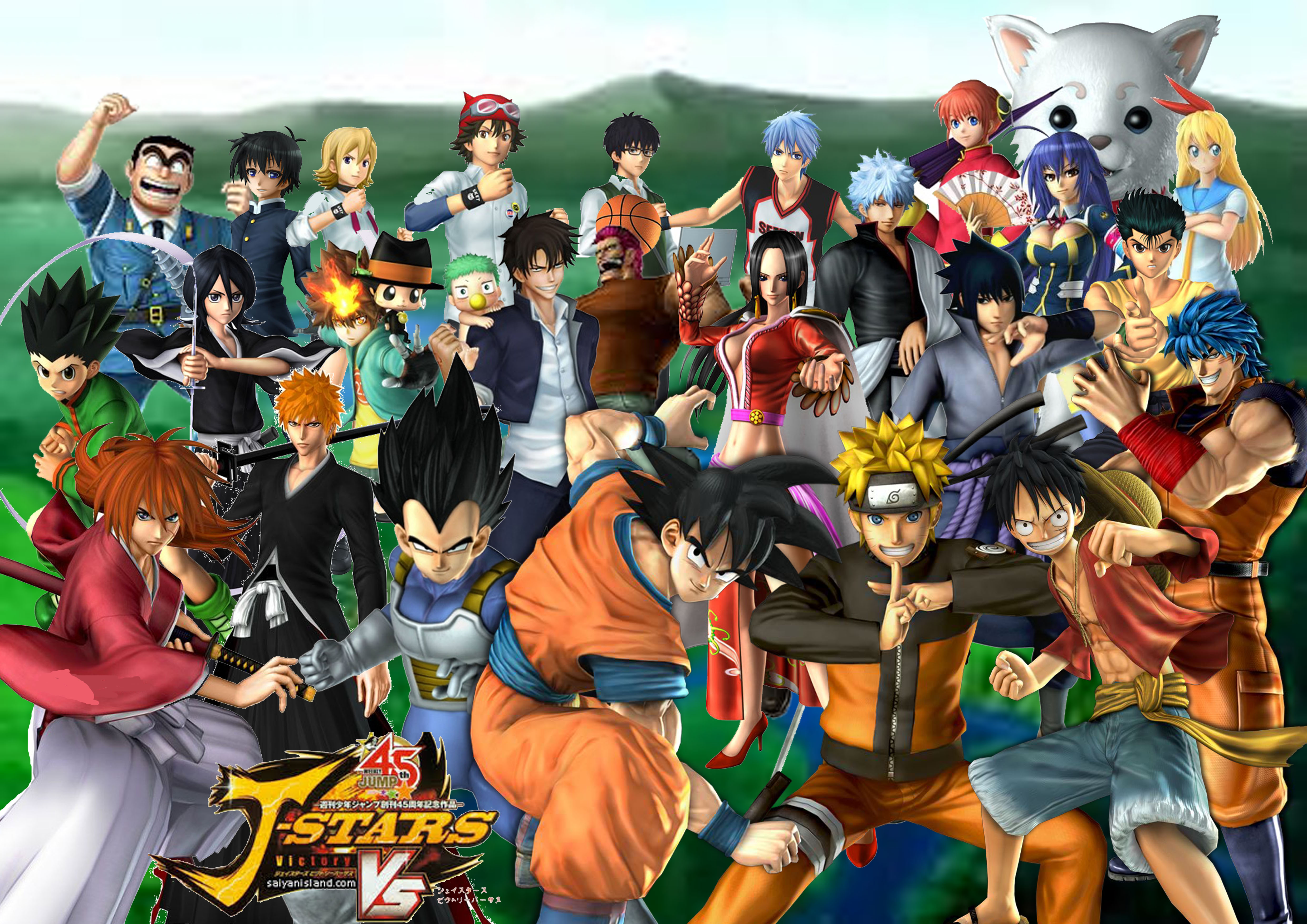 J-Stars Victory VS akan memuat 52 karakter dari 32 seri anime yang berbeda. Siapa saja? Berikut adalah daftar lengkapnya:
Assassination Classroom: Korosensei
Beelzebub: Tatsumi Oga dan Baby Beel
Bleach: Ichigo Kurosaki, Sosuke Aizen, dan Rukia Kuchiki (Support)
Bobobo-bo Bo-bobo: Bobobo-bo Bo-bobo dan Don Patch
Chinyuki Taro to Yukaina Nakama Tachi: Taro Yamada
D.Gray-Man: Allen Walker (Support)
Dr. Slump: Arale Norimaki dan Gatchan
Dragon Ball: Goku, Vegeta, dan Freeza
Fist of the North Star: Kenshiro dan Raoh
Gintama: Gintoki Sakata, Kagura, Sadaharu (Support)
Haikyu!!: Shoyo Sinata (Support)
HunterxHunter: Gon, Killua, dan Hisoka (Support)
Jigoku Sensei Nube: Meisuke Nueno
Jojo's Bizarred Adventure: Johanthan Joestar dan Joseph Joestar
Katekyo Hitman Reborn!: Tsunayoshi Sawada dan Reborn
Kochira Katsushikaku Kameari Koenmae Hashutsujo: Kankichi Ryotsu
Kuroko no Basuke: Tetsuya Kuroko (Support)
Majin Tantei Nogami Nuero: Neuro Nogami (Support)
Medaka Box: Medaka Kurokami dan Misogi Kumagawa (Support)
Naruto: Naruto, Sasuke, dan Uchiha Madara
Nisekoi: Chitoge Kirisaki (Support)
One Piece: Luffy, Ace, Boa Hancock, dan Akainu
Pyu to Fuku! Jaguar: Jaguar Junichi (Support)
Rurouni Kenshin: Himura Kenshin dan Shishio Makoto
Saiki Kusuo no Psi Nan: Kusuo Saiki
Saint Seiya: Pegasus Seiya
Sakigake!! Otokojuku: Momotaro Tsurugi dan Heihachi Edajima (Support)
Sket Dance: Bossun (Support), Himeko (support), dan Swich (Support)
Tottemo! Luckyman: Luckyman
Toriko: Toriko dan Zebra
To Love-Ru: Lala Satalin Deviluke (Support)
YuYu Hakusho: Yusuke Urameshi, Hiei, dan Younger Toguro
Dari semua karakter yang disediakan J-Stars Victory VS di atas, adakah karakter terfavorit kalian?
Source : kotaku.com