Hari Sabtu, 14 Oktober mendatang, SMAN 2 Tambun Selatan kembali akan mengadakan matsuri tahunannya, Hitochuu Matsuri. Hitochuu Matsuri 6 kali ini mengusung tema yang cukup unik, yaitu digital world atau dunia digital. Acara ini akan diselenggarakan di kampus SMAN 2 Tambun Selatan yang berlokasi di Jl. Aries perum Sinar Kompas Utama, Tambun Selatan, Kab. Bekasi .
Di acara ini, kalian akan bisa menghadiri berbagai kegiatan yang pastinya seru, seperti gallery, bazaar, rumah hantu Jepang atau obake yashiki, takoyaki contest, game corner, dan banyak kegiatan lain yang pastinya seru. Kalian juga dapat mengikuti kompetisi-kompetisi spesial seperti OSU! Competition (diadakan dengan kerjasama dari OSU! Bekasi) dan Tekken 7 Competition (diadakan dengan kerjasama dari ICT SMAN 2 Tambun Selatan)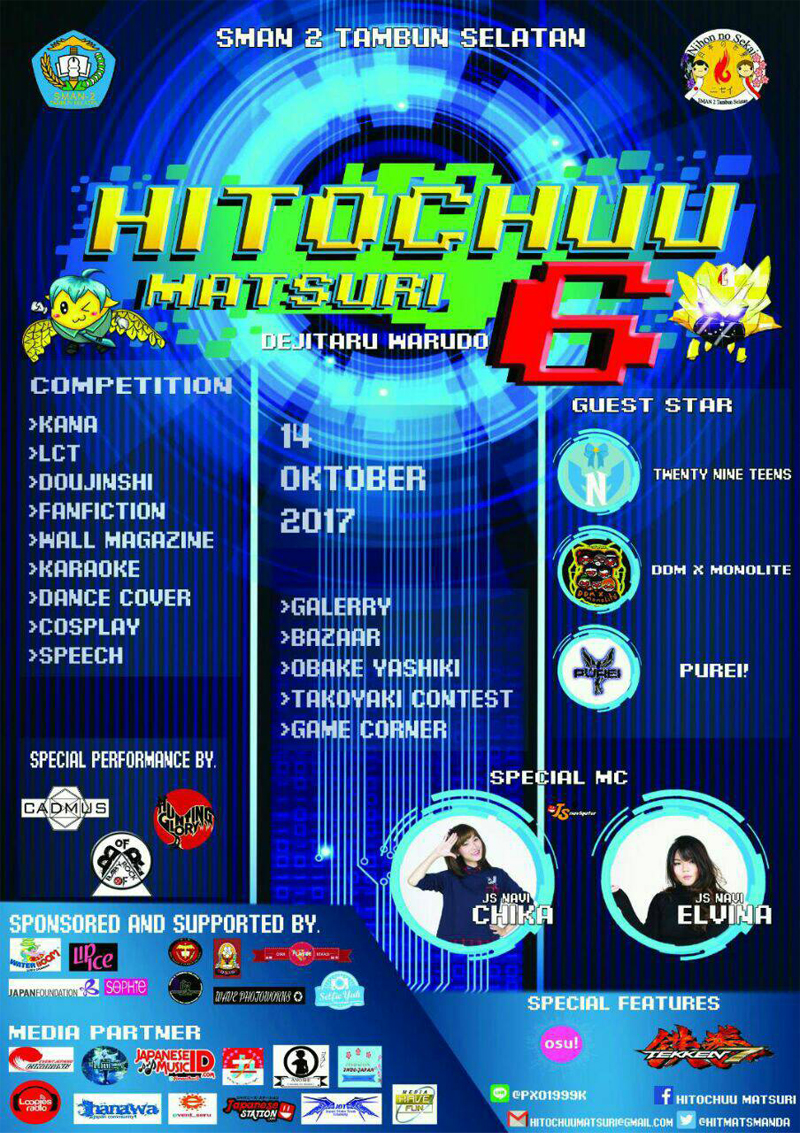 Di Hitochuu Matsuri 6, kalian juga bisa menyaksikan pertunjukan-pertunjukan keren dari Project Cadmus, Hunting Glory, Baby of Rock, dan special performance dari Doki Doki Morning X Monolite, Purei!, dan Twenty Nine Teens. Acara ini juga akan dibawakan oleh MC dari Japanese Station Navigator, yaitu JS Navi Chika dan JS Navi Elvina.
Tiket acara ini dibagi ke tiga jenis tiket, yaitu presale 1 seharga 15 ribu rupiah, presale 2 seharga 20 ribu rupiah, dan tiket on the spot seharga 25 ribu rupiah. Untuk info lebih lanjut, kalian bisa menghubungi panitia Hitochuu Matsuri 6 melalui Line @pxo1999k, laman facebook Hitochuu Matsuri, atau email ke hitochuumatsuri.com. Kalian juga bisa langsung menghubungi contact person event ini, yaitu Kezya Coryna (085777120318, Line: 2nd.key) atau Hani Arlina ( 081806046535, Line: haniarlina).
Jadi, jangan lupa untuk datang ke event seru yang satu ini ya!