Website resmi untuk acara televisi live-action yang diadaptasi dari game kartu untuk Smartphone Jitsuzai-Sei Million Arthur dari Square Enix telah dibuka pada hari Rabu dengan pengumuman bahwa serial ini akan tayang perdana pada tanggal 3 Oktober.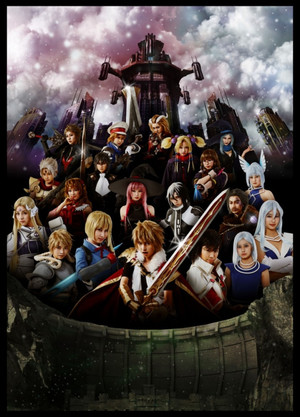 Setiap tayangan sebanyak 24 episode dari serial tersebut akan berjalan selama 15 menit. Acara "girls entertainment" ini akan dibintangi oleh para pemeran yang semuanya adalah perempuan. Website tersebut juga mengumumkan para pemeran dari acara tersebut:
Seren Kusunoki sebagai Arthur – Fencer of the Castle
Arisa Fujisaki sebagai Arthur – Place of Finesse
Ayumi Mizukoshi sebagai Arthur – School of Magic
Miki Yokota sebagai Lancelot
Aki Kazama sebagai Gawain
Yurina Yanagi sebagai Sir Galahad
Shiori Inoue sebagai Fay
Yuri Murakami sebagai Life
Hikaru Shiroishi sebagai Elle
Nemu Yumemi sebagai Merlin
Miharu Tanaka sebagai Guinevere
Rena Sato sebagai Nimue
ROOT sebagai Mordred
Asana Mamoru sebagai Morgause
Honoka Kada sebagai Elyan
Mao Noguchi sebagai Morgan
Ayana sebagai Lot
Mao Ichimichi sebagai Yuriens
Yuki Kondo sebagai Brangolis
Megumi Fumiyama sebagai Rience
Takashi Sumida akan menyutradarai serial ini di ILCA dengan naskah dari Hiromi Kumamoto.
Kaku-San-Sei Million Arthur pernah dirilis untuk iOS dan Android pada tahun 2012. Game role-playing pertarungan kartu tersebut berpusat pada raja Arthur yang sebenarnya yang menarik sebuah pedang dari batu, namun banyak orang yang mengklaim julukan tersebut, setiap orang tersebut memiliki sebuah pedang Excalibur mereka sendiri.