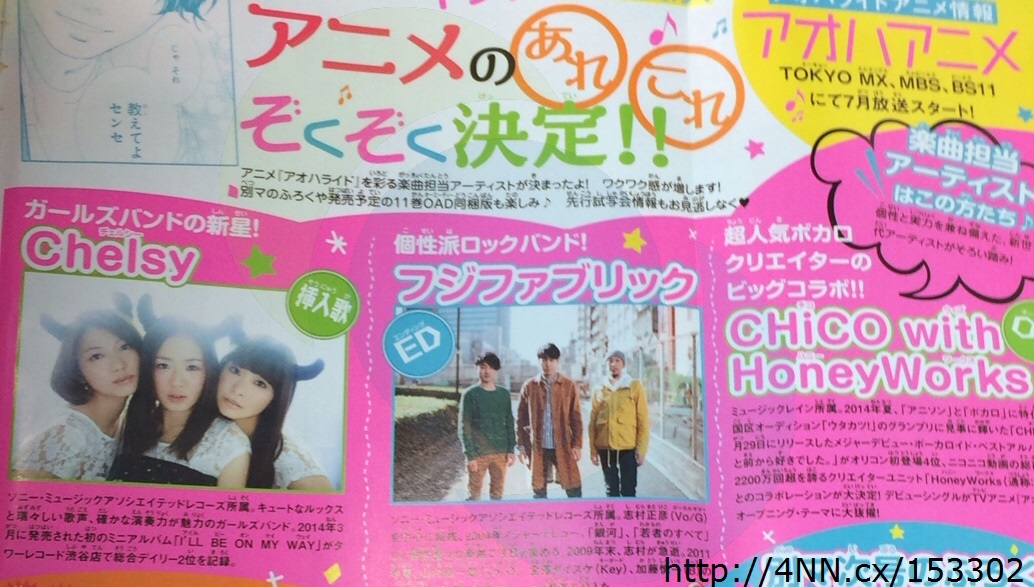 Edisi bulan Juni dari majalah Betsuma terbitan Shueisha mengumumkan pada hari Selasa para penampil yang akan membawakan lagu tema untuk serial anime Ao Haru Ride yang diangkat dari manga shoujo karya Io Sakisaka. CHiCO with HoneyWorks akan membawakan lagu tema pembukanya, sementara Fujifabric akan membawakan lagu tema penutupnya. Sebagai tambahan, girl band beranggotakan 3 orang, Chelsy, akan membawakan sebuah insert song.
CHiCO with HoneyWorks adalah kolaborasi baru antara pencipta vocaloid terpisah, CHiCO dan HoneyWorks. Chelsy melakukan debut mini-album pertamanya pada tahun 2014. Fujifabric sebelumnya pernah membawakan lagu tema pembuka untuk Space Brothers, Silver Spoon, dan tsuritama.
Anime ini akan dibintangi oleh: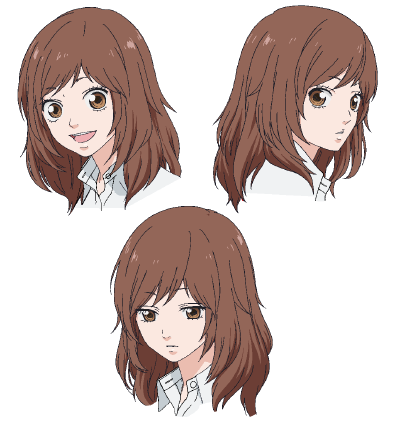 Maaya Uchida (Hiyori dalam Noragami, Wakana dalam Pretty Rhythm Rainbow Live) sebagai Futaba Yoshioka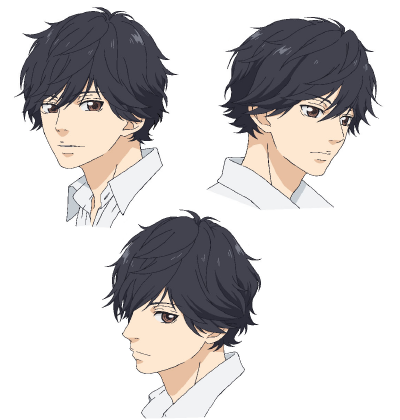 Yuuki Kaji (Shu dalam Guilty Crown, Eren dalam Attack on Titan) sebagai Kou Mabuchi

Ai Kayano (Chisaki dalam Nagi no Asukara, Inori dalam Guilty Crown) sebagai Yuuri Makita, teman Futaba yang menyukai Kou.

Mikako Komatsu (Miuna dalam Nagi no Asukara, Ito dalam Pretty Rhythm Rainbow Live) sebagai Shuuko Murao, sang "lone wolf" yang menyukai Tanaka-sensei.

Kenn (Anji dalam Samurai Flamenco, Phinks dalam Hunter x Hunter) sebagai Aya Kominato, pemuda yang menyukai berbagai acara dan tertarik dengan Shuuko.

Daisuke Hirakawa (Julio Cesare dalam The Familiar of Zero, Momotaro dalam Hozuki no Reitetsu) sebagai Youichi Tanaka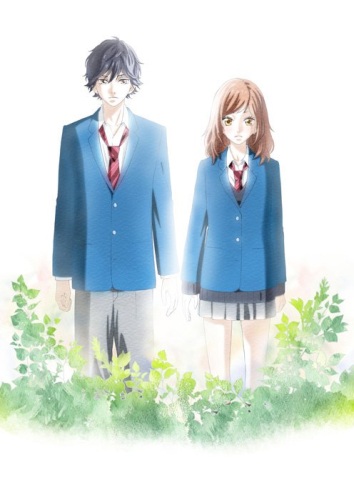 Ao Haru Ride berkisah seputar Futaba, seorang gadis yang pernah jatuh cinta dengan seorang pemuda bernama Kou Tanaka ketika SMP. Akan tetapi, setelah suatu kesalahpahaman, hubungan mereka sebagai teman berakhir ketika Kou pindah sekolah selama libur musim panas. Di SMA, dunia Futaba berputar sekali lagi ketika dia bertemu dengan Kou lagi, kali ini dengan nama Kou Mabuchi.
Ai Yoshimura (My Teen Romantic Comedy SNAFU) mengarahkan serial ini di studio Production I.G. Tomoko Konparu (Kimi ni Todoke, Uta no Prince-sama – Maji Love 1000%, Sunday Without God) bertanggung jawab untuk naskahnya.
Sakisaka memulai manga Ao Haru Ride di majalah pada tahun 2011, dan Shueisha menerbitkan volume kompilasi ke-9 nya di Jepang bulan lalu. Manga tersebut juga menempati peringkat sebagai salah satu dari 20 manga shoujo teratas yang direkomendasikan oleh para profesional  di bidang manga dan penerbitan. Viz menerbitkan manga Strobe Edge karya Sakisaka di Amerika Utara.
Anime ini akan tayang perdana pada bulan Juli. Sebuah film adaptasi live-action juga dijadwalkan tayang pada bulan Desember.
Source : animenewsnetwork.com