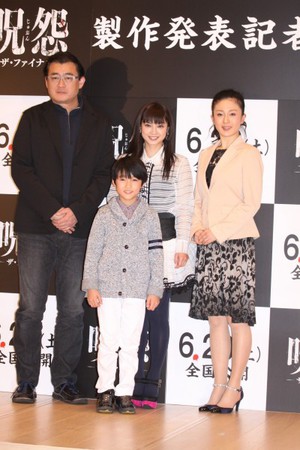 Sebuah konferensi pers pada hari Selasa di Tokyo Akagi Shrine telah mengumumkan film terakhir dalam seri film Ju-On (The Grudge), berjudul Ju-On The Final. Film ini akan diputar di berbagai bioskop Jepang pada tanggal 20 Juni. Masayuki Ochiai, sutradara film terbaru Ju-On: Owari no Hajimari (Ju-On: Beginning of the End), akan kembali menyutradarai.
Airi Taira (20th Century Boys) akan membintangi film tersebut sebagai Mai. Dalam ceritanya, ia pergi mencari adiknya Yui (Nozomi Sasaki), seorang guru sekolah yang hilang selama Ju-On: Owari no Hajimari saat mengunjungi rumah seorang pelajar yang membolos bernama Toshio Saeki (Kai Kobayashi). Misaki Saisho akan kembali berperan sebagai Kayako Saeki.
Film Juon: The Grudge pertama diputar di berbagai bioskop di Jepang pada tahun 2003 dan telah diadaptasi menjadi sebuah film live-action Hollywood yang diperankan Sarah Michelle Gellar pada tahun 2004. Waralaba film horor ini telah menerima dua adaptasi Hollywood dan beberapa sekuel di Jepang. Ju-On: Owari no Hajimari telah diputar bulan Juni tahun lalu.
Source : animenewsnetwork.com