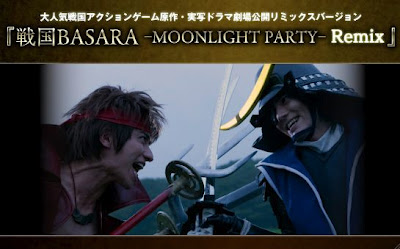 Telah diumumkan bahwa serial drama live-action Sengoku Basara yang baru saja selesai ditayangkan akan dilanjutkan dengan dua buah film kompilasi live-action yang akan diberi judul Sengoku Basara -Moonlight Party- Remix. Rilis ini akan mencakup konten rahasia yang belum pernah ditayangkan sebelumnya.
Aktor/penyanyi GACKT (New Fist of the North Star, Kamen Rider Decade) akan berperan sebagai tiran Oda Nobunaga (kanan), Hayashi Kento (Arakawa Under the Bridge) sebagai pemegang enam-pedang, Date Masamune (tengah), dan, Takeda Kouhei (Hana Kimi, Kamen Rider Kiva) sebagai ksatria bertombak, Sanada Yukimura (kiri).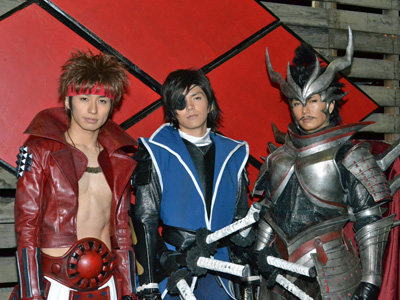 Ber-setting di wilayah-wilayah yang sedang berperang di Jepang, Sengoku BASARA -Moonlight Party- adalah sebuah serial drama berdasarkan sebuah game berjudul sama yang dirilis oleh CAPCOM. Drama live-action pertama ini adalah kelanjutan dari serangkaian kesuksesan acara-acara, teater dan anime sebelumnya.
Film ini akan diputar untuk pertama kalinya di Cine Libre Ikebukuro di Tokyo pada tanggal 24 November, dan dilanjutkan di Theatre Umeda di Osaka pada pertengahan bulan Desember.
sumber : jefusion.com
pic : animenewsnetwork.com