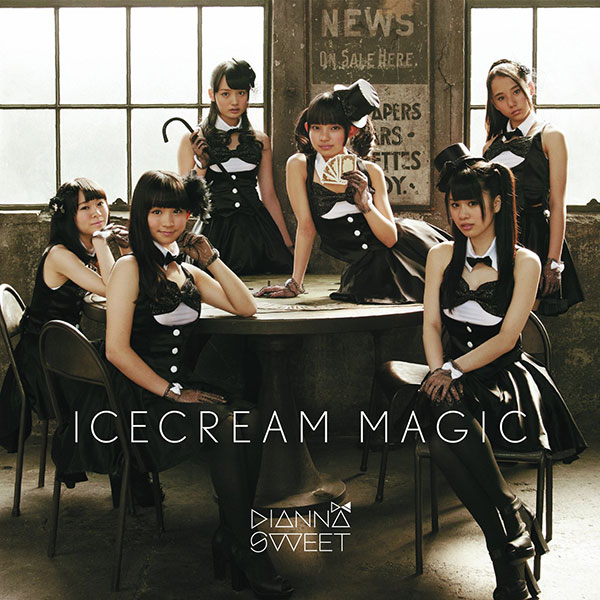 Single baru Dianna☆Sweet berjudul Ice Cream Magic akan dirilis pada 2 Juli.
Ini adalah single ke-3 dari grup idol Jepang Dianna☆Sweet.
Versi penuh dari MV lagu tersebut telah dirilis.
Ice Cream Magic adalah sebuah lagu yang funky dan penuh irama.
Lagu coupling Koi wa Fusion! (恋はFusion!) adalah hit musim panas yang dipengaruhi oleh beat Afrika.
Be Crazy adalah lagu cinta nostalgia, sementara Go Ahead adalah lagu rock yang segar.
3 edisi tersedia dalam single ini. Single ini berisi list lagu yang sama di setiap edisinya.
Limited Edition berisi bonus DVD dengan video yang diambil dari Dianna Sweet 1st Live "Kodawari Amatou Matsuri" (ファーストワンマンライブ「こだわり甘党祭り!」).
Selanjutnya, Dianna☆Sweet akan mengadakan 2nd Live "Sweet Magic Summer 2014″ pada July 26 di Nagoya Live Hall M.I.D.
[Tracklist]
CD

Ice Cream Magic
Koi wa Fusion! (恋はFusion!)
Be Crazy
Go Ahead!
DVD

1st Live "Kodawari Amatou Matsuri" (ファーストワンマンライブ「こだわり甘党祭り!」ライブ映像)
Source : J-Pop Idols