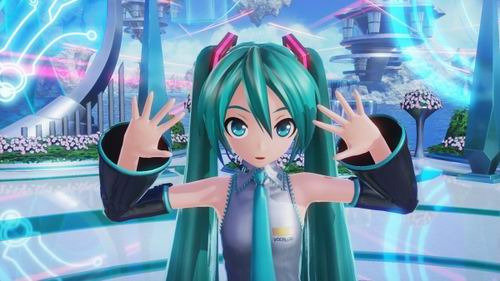 Baru-baru ini Sega telah mengeluarkan serangkaian detil informasi terbaru mengenai game Hatsune Miku: Project Diva X versi PlayStation 4. Mulai dari screenshot sampai ke daftar lagu yang terdiri dari lagu dalam game, medley dan dua lagu downloadable content (DLC) yang dapat diunduh langsung saat peluncuran Agustus mendatang. Inilah daftar lagu Hatsune Miku: Project Diva X:
DLC
"Sharing the World" – Bighead
"Hand in Hand" – livetune
Di dalam game
"Satisfaction" – livetune
"LOL -lots of laugh-" – mikumix
"Hitorinbo Envy" – Koyori (Temporu-P)
"Hikyou Sentai Urotander" – Shin-P
"Tsumi no Namae" – ryo (supercell)
"Hajimete no Oto" – malo
"Akahitoha" – Kurousa-P (WhiteFlame)
"Ai Dee" – Mitchie M
"Calc." – JimmyThumb-P
"Babylon" – Tohma
"Kunoichi Demo Koi ga Shitai" – Mikito-P
"Seisou Bakuretsu Boy" – Reruriri Moja
"Streaming Heart" – DECO*27
"Umiyuri Kaitei Tan" – n-buna
"Slow Motion" – Pinocchio-P
"Amazing Dolce" – Hitoshizuku x Yama Triangle
"Ai no Uta" – Lamaze-P
"Tsugihagi Sutakkaato" – Toa
"Lost One no Goukoku" – Neru
"Nounai Kakumei Girl" – MARETU
"Mrs. Pumpkin no Kokkei na Yume" – Hachi
"Ren'ai Saiban" – 40mP
"Raspberry*Monster" – HoneyWorks
"Strangers" – Heavenz
Medley
"Ultimate Medley ~Virtuous Runaway Suite~" diaransemen oleh [email protected]
"Beauty Medley ~Glossy Mixture~" diaransemen oleh Treow (ELECTROCUTICA)
"Cute Medley ~Idol Sounds~" diaransemen oleh Mitchie M
"Cool Medley ~Cyber Rock Jam~" diaransemen oleh Osamu
"Chaos Medley ~Giga Remix~" diaransemen oleh Giga-P
"Beginning Medley – Primary Colors" diaransemen oleh OSTER project
Sudah siapkah kalian untuk bernyanyi bersama Miku? Kira-kira lagu mana yang akan menjadi favorit kalian?
Source : gematsu.com