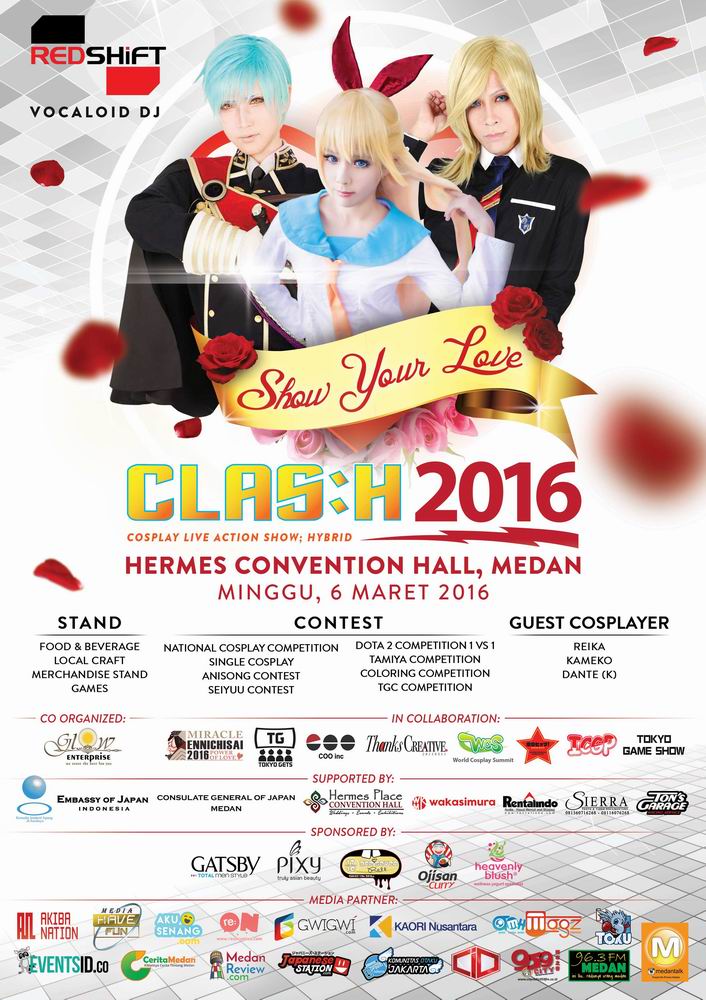 Buat kalian yang ada di Medan, datang yuk ke acara CLAS:H MEDAN 2016!
CLAS:H MEDAN 2016 digelar tanggal 6 Maret 2016 di Hermes Convention Hall, Medan.
Acara ini akan menyuguhkan kompetisi cosplay dengan menghadirkan local judge untuk CLAS:H MEDAN 2016 yaitu juara CLAS:H MEDAN 2014, Lily dan juara CLAS:H MEDAN 2015, Valdi dan Etnaz untuk menentukan siapa yang akan mewakili regional Sumatra untuk tahun 2016!
CLAS:H MEDAN 2016 juga berisi Workshop Performance dan Costume Making bersama Konnichi Kurenai, Anisong Karaoke, Seiyuu Contest, Dota Competition, SPECIAL MEET AND GREET WITH REIKA, KAMEKO & DANTE, dan penampilan dari REDSHIFT yang akan menguncang Medan.
Untuk kalian yang masih belum punya tiket CLAS:H MEDAN 2016 bisa pesan langsung ke:
– Lia (0821 6246 8280)
– Reno (0852 6135 1513)
– Fatih (0895 2739 6549)
ID Line : renosaikasinuhaji
Voucher untuk Tiket Presale dapat juga dibeli di:
– www.wakasimura.com
– Multi Toys Medan (Jl Sumatera No.115 Medan)
– Meister Hobby Garage (Jl Talaud No 6C/15A – Belakang Methodis 2)
– Shin Icho Sushi (Jl RA Kartini disamping Australia Center)
ON THE SPOT TICKET CLAS:H MEDAN 2016
Rp. 50.000,-
Info mengenai detail CLAS:H MEDAN 2016
Facebook CLAS:H
(Booth & Acara)
Motoharu (082167381198)
Jangan lewatkan acara ini ya! Ajak juga teman-teman kalian untuk datang biar makin seru!