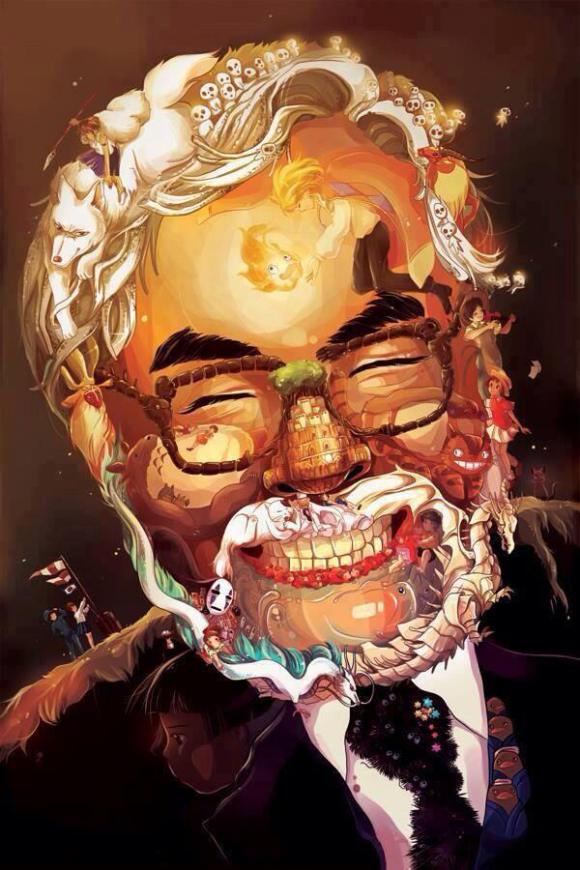 Dari Castle in the Sky hingga The Wind is Rising, Hayao Miyazaki telah membawa kehidupan bagi para tokoh animasi selama hampir 30 tahun.  Kini seorang artis jenius memadukan karakter-karakter yang telah dihidupkan oleh sang sutradara ini untuk menghidupkan potret dirinya.
San dari Princess Mononoke dengan anggung menunggangi serigala gunungnya, melewati gumpalan kusut dari rambut putih Miyazaki. Totoro dan Catbus mengisi pipinya. Jika kalian melihat lebih dekat, kalian dapat melihat Jiji dari Kiki's Delivering Service dengan bangga hinggap di bahunya. Karakter-karakter lain dari Ponyo, Howl's Moving Castle, Spirited Away, dan banyak lainnya turut bergabung dan membentuk potret ceria sang sutradara brilian.
Ayo, berapa karakter yang bisa kalian temukan?
Source : rocketnews24.com