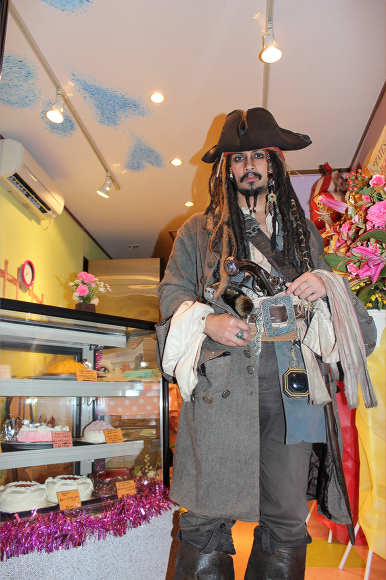 Apa yang Jack Sparrow lakukan di tengah kota? Apakah dia tersesat di Jepang? haha
Koenji Jack Sparrow itulah namanya, dia adalah seorang manager di sebuah toko kue Cake and Cafe Bar Pirates of Ryouma yang baru dbuka 10 Desember lalu. Toko ini berlokasi di Nakano-ku Tokyo dan cukup dekat dari Stasiun JR Nakano karena cukup ditempuh dengan 5 menit berjalan kaki saja. Pakaian yang dia kenakan merupakan bagian dari konsep kafe yang bertema Bajak Laut.
Jangan lewatkan kesempatan bertemu Jack Sparrow jika kamu berkunjung ke Tokyo Jepang karena hampir setiap hari dia ada di toko itu.