Tangga musik mingguan Oricon kembali menyebutkan judul-judul single dan album yang sedang menjadi incaran para pendengar di Negeri Sakura. Kini, boyband Smap pun muncul di posisi pertama tangga penjualan single.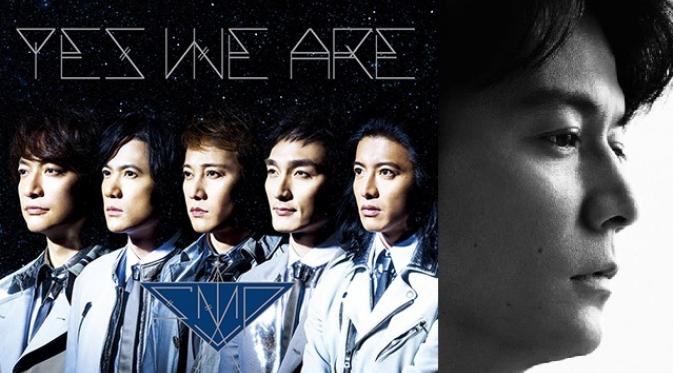 Smap sukses mengalahkan penjualan single idol group Nogizaka46 dan band Sekai no Owari berkat karya barunya yang berjudul Yes we are. Penjualan yang mereka raih, berada di atas angka 100 ribu kopi pada pekan lalu.
Sementara itu di tangga album, Fukuyama Masaharu kembali merajai penjualan mengalahkan soundtrack Frozen dan karya terbaru Kato Miliyah x Shimizu Shota.
Berikut daftar lima besar penjualan single dan album versi Oricon pada 7 hingga 13 April 2014 lalu, seperti dikutip dari Tokyo Hive:
Peringkat Mingguan Single:
1. Yes we are / Koko Kara – SMAP (138.968)
2. Honoo to Mori no Carnival – SEKAI NO OWARI (66.469)
3. Kizuitara Kataomoi – Nogizaka46 (24.668)
4. Shimane Koi Tabi – Mizumori Kaori (15.891)
5. TOKI – Da-iCE (15.107)
Peringkat Mingguan Album:
1. HUMAN – Fukuyama Masaharu (43.502)
2. Anna to Yuki no Joou (Frozen) Original Soundtrack – Various Artists (18.728)
3. Heartful Song Covers – May J. (14.351)
4. TV Anime / Data Carddass 'Aikatsu!' Best Album 'Calendar Girls' – STAR ANIS (12.276)
5. THE BEST – Kato Miliyah x Shimizu Shota (10.274)
Saat mendengar SMAP, rata-rata penggemarnya pasti akan langsung meneriakkan nama Takuya Kimura. Dibentuk pada 1991, boyband ini sukses menjadi salah satu legenda musik Jepang. Takuya Kimura juga berhasil tercatat sebagai salah satu aktor yang memiliki reputasi sangat baik di sana.
SMAP merupakan grup vokal Jepang yang terbentuk sejak 1988 dan terdiri dari Masahiro Nakai, Takuya Kimura, Goro Inagaki, Tsuyoshi Kusanagi dan Shingo Katori. Debut mereka dimulai sejak 1992 dan saat ini sudah meluncurkan 20 album. Hal tersebut merupakan rekor yang belum dicapai oleh boyband Jepang lainnya.
Source : showbiz.liputan6.com