Scan dari edisi terbaru majalah Jepang Shonen Jump menegaskan penambahan Wapol dan Crocodile sebagai bos-bos baru game RPG One Piece yang akan datang, One Piece Romance Dawn : The Dawn of Adventure untuk konsol PlayStation Portable (PSP).
Karena Wapol dan Crocodile masing-masing muncul di manga selama cerita Drum Island dan Alabasta Arc in the Grand Line, hal ini cukup memberi penegasan bahwa game tersebut tidak akan hanya terfokus pada bagian cerita Easy Blue saja.
Para bajak laut Straw Hats Pirates yaitu Luffy, Zoro, Nami, Sanji dan Usopp juga dipastikan akan berada dalam game tersebut. Pemain akan terlibat pertempuran untuk memperoleh experience (pengalaman) dan meningkatkan kemampuan seperti speed (kecepatan), defense (pertahanan) dan attack strength (kekuatan serangan). Game One Piece pertama untuk konsol PSP ini dijadwalkan akan dirilis pada tanggal 20 Desember.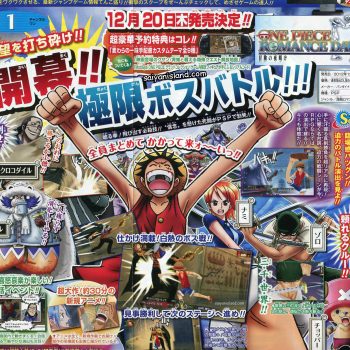 sumber : jefusion.com