Kenji Taira (Rock Lee no Seishun Full-Power Ninden, Uchiha Sasuke no Sharingan Den) akan menggambar "manga kolaborasi khusus" untuk film Boruto -Naruto the Movie-. Kabar ini diumumkan pada hari Jumat di edisi Juli dari majalah Saikyo Jump terbitan Shueisha. Manga kolaborasi khusus ini akan dimuat di edisi September dari majalah tersebut yang akan diterbitkan pada tanggal 1 Agustus.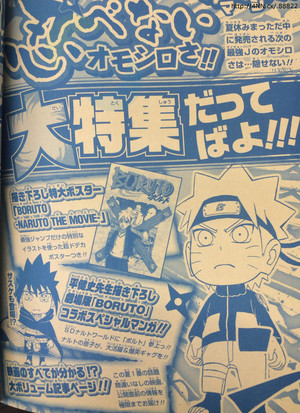 Dilansir dari animenewsnetwork.com, majalah tersebut menggambarkan cerita dalam manga kolaborasi khusus ini sebagai berikut: [Awas Spoiler!]
Boruto memasuki dunia SD (Super Deformed) Naruto. Anak dari Naruto itu menjadi bintang di berbagai lelucon yang meriah dan lucu! (Sasuke juga muncul!?).
Film Boruto -Naruto the Movie- adalah sekuel dari manga Naruto dan film The Last -Naruto the Movie-. Pada tanggal 7 Agustus film ini akan diputar di berbagai bioskop di Jepang, dan pada tanggal 27 Juni tiketnya akan mulai dijual.
Source : animenewsnetwork.com