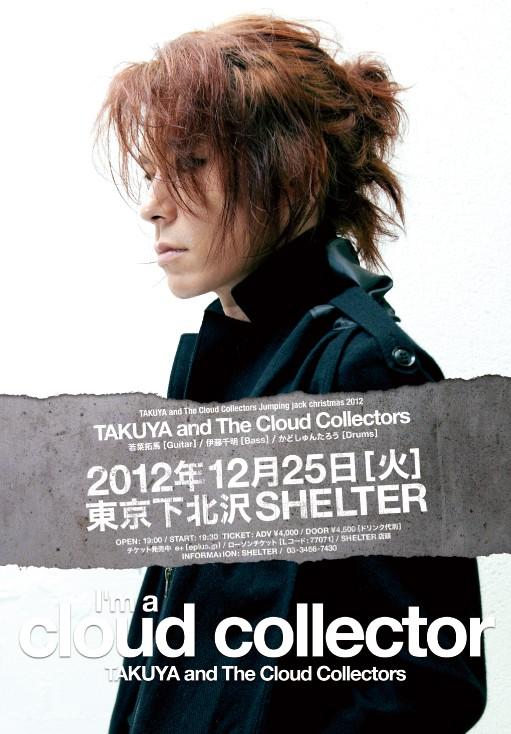 Band rock Jepang baru yang dipimpin oleh TAKUYA (sebelumnya di JUDY AND MARY dan ROBO+S), TAKUYA and The Cloud Collectors, akan melakukan konser tunggal di SHELTER di Shimokitazawa, Tokyo pada tanggal 25 Desember.
TAKUYA and The Cloud Collectors adalah sebuah band yang dibentuk oleh gitaris sekaligus vokalis TAKUYA, bersama dengan Shuntaro Kado pada drums, Chiaki Ito pada bass, dan Takuma Wakana pada guitar. Penampilan ini akan menandai debut pertunjukan live mereka, dan setlist pada pertunjukan tersebut akan menampilkan pilihan lagu-lagu rock milik TAKUYA yang telah ada sebelumnya.
Penampilan ini dijadwalkan akan ditayangkan secara streaming lewat saluran Ustream. Masahide Sakuma akan bertanggung jawab atas sound production pada Ustream.
TAKUYA and The Cloud Collectors "Jumping jack christmas 2012"
December 25, 2012 (Tue) SHELTER, Shimokitazawa, Tokyo
Open Time: 19:00 / Start Time: 19:30
Streaming Date and Time: December 25, 2012 (Tue) 19:30-
Streaming URL: http://www.kampsite.jp/
Official Website: http://www.takuya-web.com/
Facebook: https://www.facebook.com/takuyaweb
Twitter: http://twitter.com/takuya54it

Blog: http://ameblo.jp/takuyaweb/
source : syncmusic.jp