Edisi ke-29 tahun ini dari Weekly Shōnen Magazine terbitan Kodansha mengumumkan pada hari Rabu bahwa band rock Jepang Back-On dan penyanyi May J. akan membawakan lagu tema untuk anime televisi Fairy Tail pada musim panas ini. Back-On (Air Gear, Eyeshield 21, Gundam Build Fighters) akan menyumbangkan lagu pembuka berjudul Strike Back, sementara May J. akan menyanyikan Kokoro no Kagi (Heart's Key).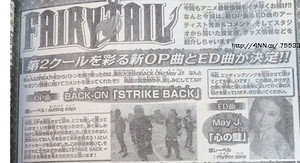 Meskipun keduanya masih mengerjakan lagu mereka, mereka memberikan komentar mengenai lagu-lagu tersebut kepada para penggemar Fairy Tail. Back-On mengatakan bahwa pesan dari lagu mereka adalah. "Tidak ada yang namanya masa depan yang tidak dapat diubah, maka dari itu hiduplah di masa kini dan ubahlah masa depan!". May J. mengatakan bahwa lagunya adalah mengenai pentingnya mempercayai teman yang berharga dan berjalan menuju masa depan.
BoA dan BREATHE membawakan set lagu tema saat ini (Masayume Chasing atau "Prophetic Dream Chasing" dan Kimi to Kare to Boku to Kanojo to atau "You, He, Me, and She") untuk anime-nya, yang kembali ditayangkan pada bulan April lalu. Crunchyroll dan Funimation menayangkan anime ini secara streaming bersamaan dengan waktu tayangnya di Jepang.
Source : Anime News Network