Semakin banyak berita besar mengenai BABYMETAL. Tak lama ini, situs http://news.distractify.com/ menulis tulisan 20 Amazing Girl Groups The World Needs To Know About. Ada berbagai grup wanita dari seluruh dunia yang disarankan situs tersetut. BABYMETAL menjadi salah satunya. Berada di peringkat 11, BABYMETAL berada di atas 2NE1 asal Korea dan Icona Pop dari Swedia. Sedangkan di atas BABYMETAL juga ada nama besar seperti Girls' Generation. Berikut daftarnya :
Little Mix
Fifth Harmony
Blush
Shiikane
The Lylas
The Staves
Girls' Generation
M N Ma Girls
Mutya Keisha Siobhan
Pearls Negras
BABYMETAL
Say Lou Lou
JUCE
2NE1
Icona Pop
G.R.L.
Haim
M.O.
Tegan and Sara
The Saturdays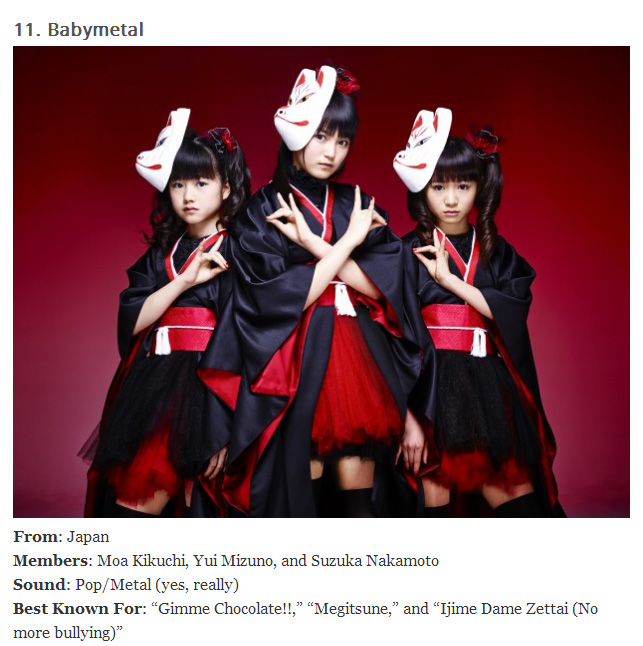 BABYMETAL adalah grup asal Jepang yang dibentuk tahun 2011. Sub unit group Sakura Gakuin ini terdiri atas Moa Kikuchi, Yui Mizuno, dan Suzuka Nakamoto. Meski bernama BABYMETAL, tak sepenuhnya lagu yang dibawakan bergenre Heavy Metal. Terkadang Pop, Rap, Hiphop, Disco, Reggae, Poppunk juga ada di BABYMETAL. BABYMETAL juga dikenal dari beberapa lagunya seperti "Gimme Chocolate!!," "Megitsune," dan "Ijime Dame Zettai".
Source : news.distractify.com