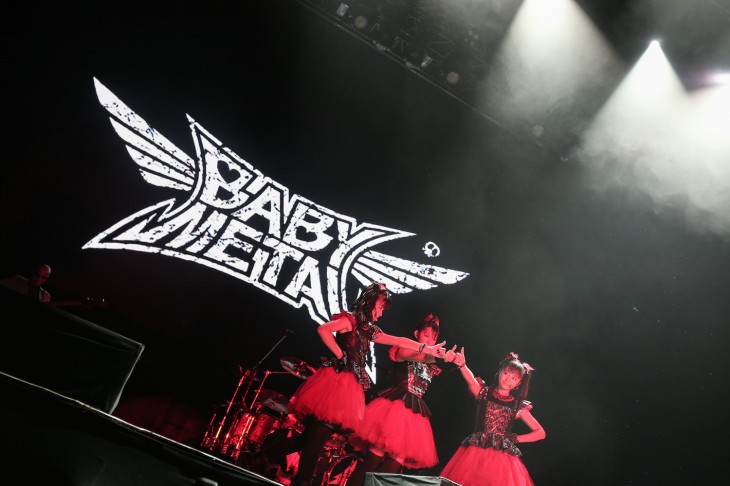 Tahun ini, Babymetal telah mendapat pengakuan internasional dan telah mengungkapkan bahwa mereka akan kembali ke NYC dan London November ini sebagai bagian dari tur mereka 'Babymetal Back in the USA / UK Live Tour 2014'.
Berbagai tempat dan tanggalnya belum diumumkan pada saat ini, tapi Natalie telah melaporkan bahwa kedua acara tersebut akan diselenggarakan di "tempat yang lebih besar dari sebelumnya".
Selain itu, DVD/Blu-Ray kompilasi video live 'LIVE~LEGEND 1999 & 1997 APOCALYPSE' telah direncanakan akan rilis di Jepang pada tanggal 29 Oktober. Rekaman konser "1999" dari YUIMETAL dan MOAMETAL akan terdiri dari berbagai pertunjukan di NHK Hall pada bulan Juni tahun lalu, sementara konser "1997" dari SU-METAL adalah dari konsernya di Makuhari Messe di bulan Desember tahun lalu.
BABYMETAL「LIVE~LEGEND 1999 & 1997 APOCALYPSE」
LEGEND "1999″ YUIMETAL & MOAMETAL Setlist
    Babymetal Death
    Ii ne!
    Kimi to Anime ga Mitai ~Answer for Animation With You
    U Ki U Ki Midnight
    Chokotto Love -Big Time Changes ver.-
    Love Machine -The Outer Mission ver.-
    Onedari Daisakusen
    No Rain, No Rainbow
    Catch me if you can
    Do Ki Do Ki Morning
    Megitsune
    Ijime, Dame, Zettai
    Akatsuki
    Headbanger!!
Legend "1997″ Su-Metal Seitansai Setlist
    Headbanger!! -Night of 15 mix-
    Do Ki Do Ki Morning
    Ii ne!
    Tamashii no Refrain
    U Ki U Ki Midnight
    Gimme Choco!!
    Kimi to Anime ga Mitai ~Answer for Animation With You
    Megitsune
    Ijime, Dame, Zettai
    Onedari Daisakusen
    Catch me if you can
    Headbanger!!
    Akatsuki(Unfinished ver.)
    Babymetal Death