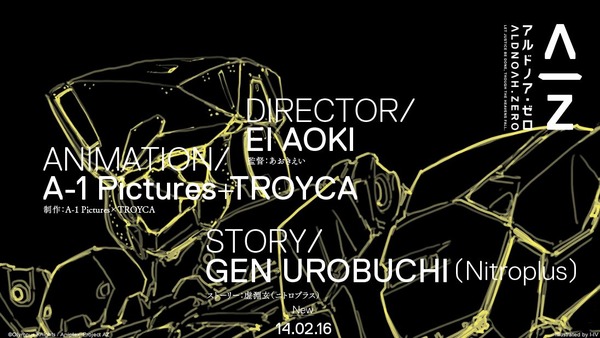 Aldonoah Zero adalah sebuah anime bergenre mecha yang akan ditayangkan di Jepang pada tahun 2014. Anime ini adalah hasil kolaborasi antara A-1 Picture (Sword Art Online, Silver Spoon, Magi: The Kingdom of Magic), sutradara dari Fate/Zero, Ei Aoki dan penulis Fate/Zero, Gen Urobuchi.
Urobuchi kini sedang mengerjakan Psycho-Pass 2, Suisei no Gargantia dan sebuah animasi dari Toei Animation, kini ia juga sedang sibuk dengan karya-karya lainnya, termasuk Madoka.
Kata-kata yang terdapat di website Aldonoah Zero adalah "Let justice be done. Though the heavens fall." yang artinya "Biarkan kebenaran ditegakkan meskipun langit jatuh".
Sources :