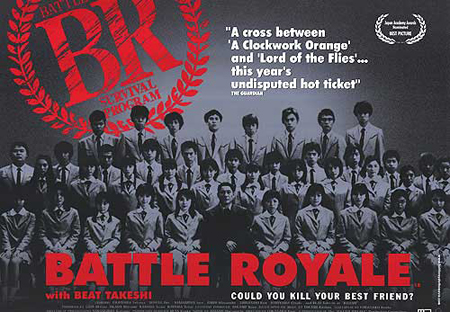 Surat kabar The Los Angeles Times melaporkan bahwa The CW Television Network tengah melakukan negosiasi untuk mendapatkan hak adaptasi dari novel terkenal Battle Royale yang ditulis oleh Koushun Takami, yang rencananya akan dibuat menjadi sebuah miniseri dengan tiap episodenya berdurasi satu jam.
Produser Roy Lee menjelaskan bahwa sebenarnya ia dan Neal H. Moritz telah mengajukan usulan adaptasi pada tahun 2006 silam, namun rencana tersebut ditunda sehubungan dengan insiden penembakan Virginia Tech.
Produksi untuk adaptasi ini sekali lagi tertunda dengan dirilisnya novel Hunger Games di Amerika pada tahun 2008. Lee berkomentar, "Penonton akan menganggap bahwa Battle Royale adalah tiruan dari Hunger Games – hampir tidak ada dari mereka yang mengetahui bahwa Battle Royale muncul terlebih dahulu. Tidak adil memang, namun begitulah kenyataannya."
Sejauh ini belum ada kesepakatan yang terjadi. The CW Television Network harus mengantungi persetujuan Takami, yang mutlak dibutuhkan menurut peraturan di Jepang sebelum melanjutkan produksi dari remake ini.
Battle Royale adalah sebuah kisah mengenai murid-murid sekolah yang dipaksa untuk saling bertarung hingga mati. Dengan berkedok sebagai studi wisata, sekumpulan pelajar dibawa menggunakan sebuah bis ke sebuah pulau terpencil. Di pulau itu mereka diharuskan bertarung melawan teman-teman sekelasnya, dan hanya seorang murid saja yang selamat yang akan dijadikan pemenang dari permainan maut tersebut.
sumber : jefusion.com