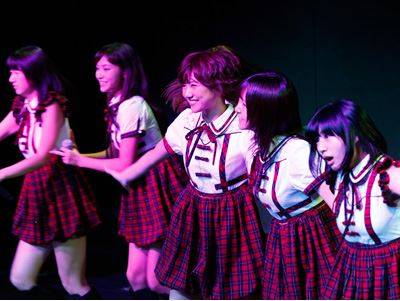 Pada tanggal 11 Oktober lalu, Miyazawa Sae dan Suzuki Mariya berdiri satu panggung bersama SNH48 untuk pertama kali nya di hadapan penonton lokal. Dua member AKB48 yang ditransfer ke SNH48 tahun lalu, tetapi akhirnya debut mereka sempat tertunda dikarenakan masalah perizinan visa.
SNH48 membawakan 16 lagu dari AKB48 "Saishuu Bell ga Naru" dan membawakan pula "Heavy Rotation" dengan lirik China. Ketika Miyazawa dan Suzuki memperkenalkan diri mereka dalam bahasa China, para fans menerima mereka dengan mengangkat plate mereka yang bertuliskan "Sae-chan" dan "Mariyannu". Dalam konser pada saat itu juga terdapat fans-fans dari Jepang yang datang untuk mensupport mereka.
Miyazawa membawakan lagu unit song "Gomen ne Jewel", dan Suzuki pun menyanyikan lagu "Oshibe to Meshibe to Yoru no Chouchou". Sebelum encore, para penonton meneriakan "Sae-chan! Mariya!" , setelah itu disusul dengan lagu "Heavy Rotation".
Mereka berdua pun akan tampil sebagai SNH48 pada ulang tahun pertama SNH48 pada tanggal 13 besok.
Source & Image: Cinema Today