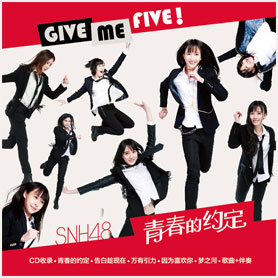 Pada tanggal 15 Januari, SNH48 merilis EP ke-6 "Give Me Five!" yang berisi 5 buah lagu, yaitu :
《青春的约定》 『GIVE ME FIVE!』 Team SII & NII
《告白趁现在》 『Confession』 TOP 16
《万有引力》 『重力シンパシー / The Gravity of Sympathy』Team HII
《因为喜欢你》 『君のことが好きだから』 Team NII
《梦之河》 『 夢の河 / Yume no Kawa 』 Team SII
Selain CD, setiap pembelian ep akan mendapatkan:
– 1 booklet lirik
– 1 pp member
– 1 tiket handshake
Ada yang berbeda dari EP kali ini, yaitu terdapat limited ticket yang bisa didapatkan dengan pembelian EP dengan kelipatan 10 EP.
Terdapat 3 jenis Limited tiket:
• Signature Tiket: untuk tandatangan member, hanya ditandatangani oleh 1 member;
• Photo Ticket: tiket two shot dengan salah satu senbatsu member untuk EP ini;
• Roshambo Tiket: hanya dapat dipakai untuk bermain dengan salah satu member saja.
Bersamaan dengan rilisnya EP Give Me Five!, official SNH48 juga merilis MV Give Me Five! secara resmi yang dapat dilihat di Official MV SNH48 – Give Me Five!
Hanya saja MV ini region lock sehingga tidak bisa dibuka di Indonesia. Bagi penggemar di Indonesia yang penasaran, dapat melihatnya dibawah ini:
---
Source : snh48

Comments